Table of Contents
---
Weather News

Introduction

History
Fifty Years of Weather History
Weather Officers—25 Years Ago
The Perth RO Since 1929
Remember the Pioneers
Akeroyd the Great
Out with the Old—In with the New [Bill Gibbs / John Zillman]
Dr Bill Gibbs
Dr John Zillman
Meteorological History in the Territory
Edwin Thomas Quayle—Bureau Research Pioneer
Ninety Years Ago: Birth of the Bureau

Personal Notes

Retirements

Obituaries

Observers and Volunteers

Media

Computers


---
Index
Search
Help
Contact us

Weather Officers—25 Years Ago
No. 105 April 1965, Item 828

A quarter of a century ago these Weather Officers held a dinner to celebrate the end of their course, the third to be held.

Advertised soon after the outbreak of war, the course began in March 1940 and by the end of September of that year the Weather Officers were "on station".

The picture on this month's issue of "Weather News", taken from the souvenir menu of the dinner, is published as a nostalgic reminder of (dare we say it?) . . . lost youth.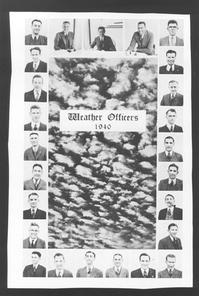 Cover of menu for farewell dinner for members of the 1940 Weather Officers course, held on Friday 23 August 1940 at the Prince of Wales Hotel, St Kilda. The three photographs centre top are, from left to right, Pat Allender, Lennie Dwyer and Harry Newell of the Training staff. Other photographs are of course members. Anticlockwise from top left Ashton, Brann, Brown, Clarke, Forder, Garriock, Gibbs, Greenfield, Hall, Mason, McDonough, MacKenzie, Nettle, Retallack, Rofe, Rutherford, Senior, Shields, Smallman, Wiesner, Williams, Wright.
Among those present who are still with the Bureau are Messrs Harry Ashton (A/ADR), Bill Brann (STIO), Andy Garriock, Bill Gibbs (DIR), Bruce Retallack (SRT), George Rutherford (STAF), Arch Shields (RD, Queensland) and Don Wright of CAO.
Those still associated with meteorology are Messrs Reg Clarke, CSIRO Met, Physics; Brian Rofe, Weapons Research Establishment; Bruce Mason, University of South Australia (whose son is a Met. Class I in the Adelaide RO), and C. J. Weisner, Department of Meteorology, University of New South Wales.
The former DIR, the late Mr. L. J. Dwyer, is at the "head of the table".
---
Organisations in Australian Science at Work - Central Analysis Office (CAO)

People in Bright Sparcs - Ashton, Henry Tamblyn (Harry); Brann, Harold Walter Allen Neale (Bill); Clarke, Reginald Henry; Dwyer, Leonard Joseph; Gibbs, William James (Bill); Retallack, Bruce James; Rofe, Bryan; Shields, Archibald John



© Online Edition Australian Science and Technology Heritage Centre and Bureau of Meteorology 2001
Published by Australian Science and Technology Heritage Centre, using the Web Academic Resource Publisher
http://www.austehc.unimelb.edu.au/fam/1303.html