Table of Contents
---
Royal Society of Victoria 1854-1959

Introduction

Victorian Institute for the Advancement of Science

Philosophical Society of Victoria

Philosophical Institute of Victoria

Royal Society of Victoria

Acknowledgements


---
Index
Search
Help
Contact us

Royal Society of Victoria (continued)

Negotiations for this were finally successful on the following terms:
That the offer of the Melbourne Bank to lend the Royal Society money on promissory notes at six months each, renewable for two years, and bearing interest at nine per cent be accepted.
That subscription lists be opened and circulated, one for donations to the building fund, and one for debentures of £5 each, bearing interest at £8.8.0 per cent per annum. That the proceeds of these subscription lists be applied to paying the money borrowed from the bank.
That any member of the Society, holding debentures to the value of £15, shall be entitled at any time to surrender his debentures, and become a life member of the Society.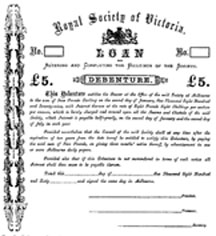 Figure 2 Debenture form issued in 1869 to finance alterations to Royal Society's buildings.
The success of these proposals was assured when debentures for over £200 were subscribed at the first meeting, the first one being taken out by James Bonwick, the historian and writer.
The first occupier of the newly completed lodge was Sergeant O'Flaherty of the police force, and it is illuminating to record his duties and his remuneration for same.
The lodge keeper has to be married with a small family, be a practical gardener, active and healthy, write legibly so as to be able to render clerical assistance, have no occupation which would keep him away from the meetings of the Society; shall perform the necessary cleaning of the hall, light fires when required, act as office keeper and messenger generally, keep the grounds in good order, and be of a thoroughly respectable character.
---
People in Bright Sparcs - Bonwick, James


Pescott, R. T. M. 1961 'The Royal Society of Victoria from then, 1854 to now, 1959', Proceedings of the Royal Society of Victoria, vol. 73, no. 7, pp. 1-40.

© Copyright of Australian Science and Technology Heritage Centre and The Royal Society of Victoria 2001
Published by Australian Science and Technology Heritage Centre, using the Web Academic Resource Publisher
http://www.austehc.unimelb.edu.au/smv/030.html