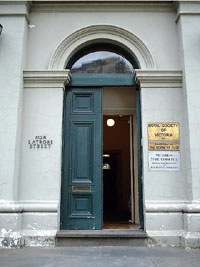 The Royal Society of Victoria's hall occupies a neat triangle of land, bordered by Victoria, Latrobe and Exhibition streets in Melbourne. It crumbles and the foundations shift, but the Society within its walls, from its origins in 1854, is strong.

Since its foundation the Royal Society of Victoria has played a leading role in supporting science and technology in Victoria, through its membership and publication of its Proceedings, and particularly through the staunch support of its presidents.

Remembered always for the organisation of the Burke and Wills Expedition in 1860, the Society has been involved in many developments of national and state significance: establishing the first Australian Antarctic Exploration Committee in 1886; surveying the natural resources of Victoria; and, establishing the National Museum of Victoria, the Observatory now in the Botanic Gardens and national parks such as Wilson's Promontory.