Table of Contents
---
Chapter 8

I Part 1: Communications

II Epilogue

III Part 2: Early Australian Computers And Computing

IV Acknowledgements

References

---
Index
Search
Help
Contact us

Epilogue

As Australia looks towards the opening of the third century since European settlement began, the systematic applications of technology as it has evolved, has, as briefly reviewed, progressively overcome the complex communication problems arising from a small population in a large and remote country. National and international communications, as well as the broadcasting networks, both radio and television, are generally comparable to those to be found in technically advanced countries, although Cable Television services are not available. On the other hand, work now being undertaken using the DRCS is providing a standard automatic telephone service throughout large areas of low population density in advance of the standard to be found in similar regions elsewhere.

The technology on which Australia's systems are based has essentially been imported but has been adapted and engineered to meet Australia's particular requirements, while local niche designs have been developed for a range of applications. Australia's expertise in research, planning, system design and specification, in administration and management, are acknowledged by the telecommunications community of the world, enabling Australians to play an appropriate role in a number of organisations dedicated to the development of world systems. An Australian, R. E. Butler, is Director General of the International Telecommunications Union, an agency of the United Nations, A. Goldsworthy is President of the International Federation for Information Processing (I.F.I.P.), the International Council for Computer Communications is being actively supported, Australians have, over extended time, been regularly involved in Study Groups and the Working Parties of the CCITT and of IFIP, developing standards and practices for world-wide application. Others have participated for instance in the activities of the International Frequency Registration Board (IFRB).

In the case of international communications, INTELSAT, INMARSAT and the Commonwealth Telecommunications Organisation, have all seen active Australian participation and at times leadership. Experts have been made available also to assist a number of developing countries, particularly under the auspices of the ITU. A special technical relationship has been established with PNG since that country became independent.

Manufacturing of telecommunications equipment in Australia is largely the province of wholly owned subsidiaries of multinational companies which have established in a number of cases modern manufacturing facilities, a substantial capacity for technology transfer and some resources for local design. At the same time, there is a growing number of smaller local firms many of which display considerable expertise, working particularly in the electronic and software related areas; but the absence of a components industry is a factor limiting the local added value in much of Australia's manufacture of communications hardware.

The results of these various factors are to be seen in balance of payments figures, with imports in 1984-5 exceeding exports by over $500 million, a figure influenced also by the growing range of terminal equipment supplied directly to end users, much of which is imported. At the same time, there is a substantial invisible deficit arising from factors such as interest on offshore borrowings, particularly to finance international communications and the purchase of domestic satellites, royalties, dividends, as well as outpayments for the settlement of international communication costs, as Australia originates more traffic than it receives. New approaches to the development of Australia's R&D, manufacture and exports are therefore being sought.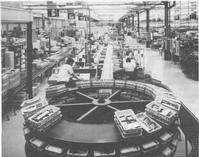 36 Part of modern manufacturing facilities, Ericssons Broadmeadows
---
Organisations in Australian Science at Work - INMARSAT (International Maritime Satellite Organisation)

People in Bright Sparcs - Butler, R. E.; Goldsworthy, A.



© 1988 Print Edition page 611, Online Edition 2000
Published by Australian Science and Technology Heritage Centre, using the Web Academic Resource Publisher
http://www.austehc.unimelb.edu.au/tia/583.html