Table of Contents
---
Chapter 9

I Introduction

II The Australian Chemical Industry

III Pharmaceuticals

IV Chemists In Other Industries

V The Dawn Of Modern Chemical Industry - High Pressure Synthesis

VI The Growth Of Synthetic Chemicals - Concentration, Rationalisation And International Links

VII Australian Industrial Chemical Research Laboratories
i Australian instrument inventions
ii Plant protection - overseas and in Australia
iii Successes in the laboratory but . . .
iv Drugs for sheep and cattle revisited Tetramisole - international success and local manufacture
v 'Promicide'* 'Grenade'* to control ticks
vi Technical service R&D
vii Industry/CSIRO/university collaboration
viii Australian entrepreneurs in modern chemistry

VIII The Plastics Industry

IX The Paint Industry

X Acknowledgements

References

---
Index
Search
Help
Contact us

Australian Industrial Chemical Research Laboratories

In the 1950s, private sector industrial research became a significant factor in the development of Australian chemical industry. It was still small by world standards and by comparison with the public sector R&D, the universities, the CSIRO or Defence Research Laboratories. It was important, however, as a link to international know-how, better utilisation of public sector research, as training ground for future managers and, most of all, as a source of inventions and innovations which became practical reality, not mere paper publications.

Chemical companies, ICI Australia (1956) (Fig. 18) and Monsanto (1956) took the lead in establishing large, new industrial laboratories closely followed by BHP (1956, Central Research Laboratory at Shortland, 1959/60 Melbourne Research Laboratory), CSR, APM, (now AMCOR), ACI, Dulux (1960), and Repco. All of these had between 50 and 300 staff and strong chemical components in their programs. Some forty or so other companies formed smaller research laboratories.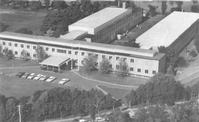 18 Central Research Laboratories ICI Australia Ltd., Ascot Vale, Victoria.
ICI Australia, in the tradition of the chemical industry, had always had a strong technical orientation. From its foundation onward most executive directors had been graduates in either science or engineering and since the 1950s one board member was appointed explicitly as technical and/or research director. Three men were the prime movers in creating a local research department, Sir Archibald Glenn, Dr. L. W. Weickhardt and Sir David Zeidler (Fig. 19). Many of the researchers were trained by secondments to ICI UK's Divisions. These links and access to the expertise, records and international patent information of ICI's 14,000 researchers were of great value to the young research department. They enabled them to build their own work on the latest advances which were still in the confidential pipelines of international research, an advantage which their colleagues in the public sector did not enjoy. International research cooperation, however, required an appropriate legal framework respecting the commercial value of the background on which research was based and of the value of the local advance built on it. It was part and parcel of decentralised management as the result of which ICI had had carried out a quarter of its research overseas, for some decades. This modus operandi is of research-strategic interest to Australia in the 1980s, when the need for a greater Australian share in the science and technology based industries has become widely recognised. Clearly more independent Australian science and technology based ventures are a prime target. Yet the skill of integrating Australian advances with international know-how, which will remain the bulk of technological innovation, will be a key factor in the success or failure of full technological emancipation.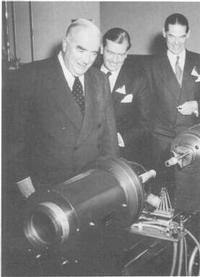 19 Opening of ICI Australia's Central Research Laboratories 1956. Left the right: Sir Robert Menzies, P.M.; Sir David Zeidler, (then) Research Manager; Sir Ian Clunies Ross, Chairman, CSIRO.
---
Organisations in Australian Science at Work - A.C.I.; Australian Paper Manufacturers Ltd (A.P.M.); B.H.P. Melbourne Research Laboratories; Colonial Sugar Refining Company (C.S.R.); Defence Research Laboratories; DULUX Australia Ltd; I.C.I. Australia Ltd. Central Research Laboratories; Monsanto Australia; Repco Corporation Ltd

People in Bright Sparcs - Weickhardt, L. W.; Zeidler, Sir David



© 1988 Print Edition page 678, Online Edition 2000
Published by Australian Science and Technology Heritage Centre, using the Web Academic Resource Publisher
http://www.austehc.unimelb.edu.au/tia/646.html