Table of Contents
---
Chapter 12

I The First Half Century - The Initial Struggle

II The Second Fifty Years - The Start Of Expansion

III The Third Fifty Years - Federation And The First World War

IV The Fourth Period - Second World War To The Present
i General Conditions
ii Iron and Steel Production
iii Aluminium Technology
iv Innovative Copper Refining Process
v The EDIM-4WD Load-Haul-Dump Vehicle
vi Copper Rod Production
vii Copper Wire and Cables
viii The Diecasting Industry
ix Automotive Components
x Whitegoods or Consumer Durables
xi Hardware
xii Some Recent New Industries
xiii The National Measurement System
xiv Manufacturing Industry in this Decade
xv Acknowledgements

References

---
Index
Search
Help
Contact us

Aluminium Technology
Aluminium products were die-cast in Australia on a small scale in 1914 and aluminium conductors were made in Australia by Metal Manufacturers in 1922. Production of wrought products was carried out some eight years later by Austral Bronze Co. Pty. Ltd. In 1936 Australian Aluminium Company, now Alcan Australia Ltd., was formed and four years later they began fabrication of aluminium products using imported feed.

In 1946 construction at Bell Bay in Tasmania began, but still another decade and a half were to pass before production of products from Australian aluminium began.

Comalco Limited is the only major Australian-owned aluminium company. It was incorporated as Comalco Industries Pty. Ltd. in 1960 and ten years later, changed its name to the present Comalco Limited. It is a major supplier of bauxite, alumina, primary aluminium and aluminium products to domestic and overseas markets. The company is fully integrated, mining bauxite at Weipa, Queensland, refining bauxite to alumina at Gladstone, smelting alumina to produce aluminium metal at Boyne Island near Gladstone and at Bell Bay, Tasmania, and finally producing rolled and extruded products at Yennora, New South Wales as well as plants in other States. It also has substantial holdings in an alumina refinery in Sardinia, Italy and an aluminium smelter in New Zealand and a large fabrication plant in the United States.

The rolling and extrusion works at Yennora were started in 1961, with sheet rolling introduced in 1962. Two years later, a hot mill and foil mill were also commissioned and again in 1964, new sheet and plate facilities were introduced. In the same year a new extrusion plant was opened in Perth, West Australia with one in Brisbane, Queensland, a year later. A second foil mill started operation in 1969 and two years later, a large 5500 tonne extrusion press was commissioned at Yennora. A warm finishing mill was introduced in 1976 and a major rolling capacity expansion took place in 1980. In 1983 a $15 million re-melt and direct chill casting facilities were commissioned at Yennora. (Fig 9 shows the modern hot strip mill faculty).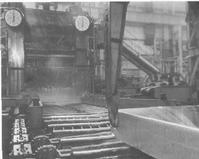 9 The modern reversing hot strip mill at Comalco's rolling facility at Yennora, New South Wales. (Courtesy: Comalco Ltd.)
The processing facilities available allow the cast aluminium blocks and billets to be converted into plate, coiled or flat sheet, foil, or extrusions of innumerable shapes. Hot rolling is carried out on a Bliss four-high 2700 mm mill which is the largest in the Australian aluminium industry; it handles heated slabs of 7.5 tonnes mass. The metal then passes through a Ube-Krupp four-high 2300 mm reversing warm mill before passing onto three, four-high cold mills of width varying from 1800 to 1500 mm. Very flat lid stock sheet can be produced by stretcher-leveller equipment.
Comalco specializes in the manufacture of aluminium can sheet as required by the beverage industry but is also a large producer of foil which come from two Loevy-Robinson 1600 mm foil mills. A major innovation has been the recent upgrading of the foil mills with the latest technology gauge and shape control to produce foil down to 0.006 mm thickness with total gauge tolerance of 3 per cent.
---
Organisations in Australian Science at Work - Alcan Australia Ltd; Austral Bronze Co. Pty Ltd; Australian Aluminium Company



© 1988 Print Edition pages 895 - 896, Online Edition 2000
Published by Australian Science and Technology Heritage Centre, using the Web Academic Resource Publisher
http://www.austehc.unimelb.edu.au/tia/873.html