Table of Contents
---
Chapter 12

I The First Half Century - The Initial Struggle

II The Second Fifty Years - The Start Of Expansion

III The Third Fifty Years - Federation And The First World War

IV The Fourth Period - Second World War To The Present
i General Conditions
ii Iron and Steel Production
iii Aluminium Technology
iv Innovative Copper Refining Process
v The EDIM-4WD Load-Haul-Dump Vehicle
vi Copper Rod Production
vii Copper Wire and Cables
viii The Diecasting Industry
ix Automotive Components
x Whitegoods or Consumer Durables
xi Hardware
xii Some Recent New Industries
xiii The National Measurement System
xiv Manufacturing Industry in this Decade
xv Acknowledgements

References

---
Index
Search
Help
Contact us

Automotive Components
Tyres

To the older motorist at least, the names, Dunlop, Olympic, Barnet Glass and Perdriau will conjure up images of motor tyres. Today, all are now part of the large family of companies that make up Pacific Dunlop Limited, an aggressively market- and innovation- oriented company that somewhat belies its name. In 1888, John Boyd Dunlop was granted a patent in England covering '. . . tyres of wheels for bicycles, tricycles and other road cars . . .'. The first of these pneumatic tyres was imported into Victoria only one year later in 1889. This was a year after Henry Perdriau entered the rubber importing business in Sydney. The Dunlop company opened a factory in Melbourne initially for the assembly and finishing of part made tyres imported from England. For the installation in 1902, the Consulting Engineer was John Monash (later Sir John), one of Australia's greatest engineers, soldiers and administrators. In 1906, the Company name became the Dunlop Rubber Company of Australasia Limited. The Perdriau Rubber Co. Ltd. started manufacturing rubber parts in 1904 and finally merged with Dunlop in 1929 to form Dunlop Perdriau Rubber Co. Ltd.

In the meantime, Polish born Barnet Glass started producing tyres in 1910 as Barnet Glass Rubber Co. Ltd. and itself became a subsidiary of Dunlop Perdriau in 1929.

The fourth company was Olympic Tyre and Rubber Co. Pty. Ltd. which began as Beaurepaire Tyre Service, a series of tyre service centres started by Frank Beaurepaire, an Olympic swimming winner. Olympic produced its first tyres in 1934 and in 1980 it also merged with Dunlop to form Dunlop Olympic Limited which name was changed again in 1986 to Pacific Dunlop Limited.

New tyre design, formulation and new manufacturing technologies continue to keep the Company in the forefront of development. Two new products introduced have been a range of aircraft tyres for general aviation operators and a new range of radial tractor tyres for the rural markets.

Innovative storage battery

A significant development came in 1949 when Dunlop introduced Australia's first dry charged battery, a technological development which was the first of a number in the battery field. The most recent and important has been the Australian development of the revolutionary Pulsar Battery Pack. Developed by Dunlop's Battery Division in conjunction with Research and Development, this innovation leads the world, being the lightest battery of its class available.

The Pulsar battery technology developed by Dunlop is claimed to be an Australian first and the most revolutionary development since the lead acid battery was first introduced. In the latter respect it is of interest to recall that an Australian, Henry Sutton, invented a superior storage battery which was described in his paper to the Royal Society of England in 1881 as having a negative electrode of copper and a positive electrode of lead amalgamated with mercury, in a solution of copper sulphate. In the Pulsar battery, the energy stored generates a higher cranking current and a higher discharge voltage level compared with conventional batteries. This is achieved by a very short internal current path of only 30 mm compared with around 150 mm for the conventional battery. The internal cell connectors are continuous lead mesh running the full height of each plate instead of being heavy lead bus-bars located at one corner of the plate. The battery is also totally sealed; ventilation is through special film which will not allow the escape of electrolyte or spray. (See Fig 10).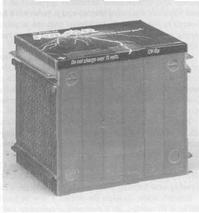 10 The 'Pulsar' Battery, an Australian research and development achievement, represents a major jump in technology producing the lightest automotive battery while being safety liquid sealed. (Courtesy: Pacific Dunlop Ltd.)
---
Organisations in Australian Science at Work - Barnet Glass Rubber Co. Ltd; Beaurepaire Tyre Service; Dunlop Olympic Limited; Dunlop Perdriau Rubber Co. Ltd; Dunlop Pneumatic Tyre Company; Dunlop Rubber Company of Australia Limited; Olympic Tyre and Rubber Co; Pacific Dunlop Ltd; Perdriau Rubber Co. Ltd

People in Bright Sparcs - Beaurepaire, Frank; Glass, Barnet; Monash, Sir John; Perdriau, Henry; Sutton, Henry



© 1988 Print Edition page 902, Online Edition 2000
Published by Australian Science and Technology Heritage Centre, using the Web Academic Resource Publisher
http://www.austehc.unimelb.edu.au/tia/881.html