Innovative storage battery (continued)

The battery is constructed with specially developed injection moulded plastic frames containing either active material or high molecular weight polyethylene separators. Each 'active' frame consists of three positive and three negative charged elements. The interaction between two such frames produces 12 volts. Once assembly is complete, the battery is filled with electrolyte and sealed.

Another company involved with rubber was The Ansell Rubber Co. Ltd. which was founded in Melbourne by a former Dunlop employee, Eric Ansell, in 1905. The first products made were toy balloons and condoms, a product line that was extended to household gloves in 1925 and later to hot water bags and teats and also gas masks during the war. In 1945, Ansell designed and built the first automatic dipping machine that produced 300 dozen pairs of synthetic gloves in eight hours.

Ansell introduced disposable surgical gloves in 1964 leading to an Export Award in 1967. Further international expansion over the next two decades saw Ansell become the world's largest producer of latex gloves for household and medical use. The latex technique used in this remarkable development was a major Australian innovation. A new factory opened recently in Thailand will have a record capacity to produce nearly 400 million balloons a year. The Company became a member of the Pacific Dunlop group in 1969.

Engines and components

The Orbital Engine Company (OEC), a joint venture of BHP and Sarich Technologies Trust, has reached a turning point in its quest for world-wide commercialisation of its technologies following the recent signing of two Agreements in the USA. The first Agreement involves the manufacture and marketing of its unique fuel injection system and related components for use in automotive and marine engine applications. Under the second Agreement, OEC granted rights to Outboard Marine Corporation of USA to use the Orbital Combustion Process (OCP) in marine, lawnmower and certain other industrial applications. Outboard Marine makes Johnson and Evinrude outboard motors and is believed to be the largest manufacturer of out-boards in the world. It is claimed that the application of OCP technology to two-stroke engines in commercial production would result in fuel savings of 30 to 70 per cent. Fig. 11 shows the engine in cross-section.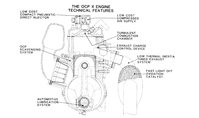 11 Cross-section of the Orbital Combustion Process engine which is a total engine concept resulting from the application of a number of Australian innovations.


Courtesy: Orbital Engine Company and BHP
The OCP is a total engine concept resulting from the application of the Orbital pneumatic in-cylinder fuel injection system and novel charging and combustion processes to an otherwise conventional two-stroke engine. The concept retains the inherent advantages of two-stroke engines -simplicity, low cost, compactness and high power to weight ratio and, in addition, out- performs conventional four-stroke engines in fuel consumption whilst complying with exhaust emission regulations.
Repco Corporation Limited has been a major supplier to the automotive industry since the War and has become well known for important innovations, both in automotive and other industries. The most well known area of success was the Repco-Brabham engine which achieved the remarkable feat of winning no less than eight major international events in 1966 and 1967. The Company has achieved world note also with the development, in conjunction with CSIRO, of the 'self-twist' spinner for weaving and knitting fibre and which is dealt with in Chapter 5.
---
Organisations in Australian Science at Work - Ansell Rubber Company Ltd; Orbital Engine Company (O.E.C.); Repco Corporation Ltd; Sarich Technologies Trust

People in Bright Sparcs - Ansell, Eric



© 1988 Print Edition pages 903 - 904, Online Edition 2000
Published by Australian Science and Technology Heritage Centre, using the Web Academic Resource Publisher
http://www.austehc.unimelb.edu.au/tia/882.html