Table of Contents
---
Chapter 13

I Colonial Origins

II First World War

III Between The World Wars

IV The Second World War

V Post-second World War

VI After The Joint Project

VII Science And Decisions At The Top

VIII Armed Services Technology

IX New Tasks And Projects
i Mulloka
ii Winnin
iii Lads
iv Jindalee
v Barra and Kariwarra

X Transfer Of Research And Development

XI Acknowledgement

References

---
Index
Search
Help
Contact us

Jindalee
Centimetric radar, as invented during the Second World War, and developed after, is noted for its extreme accuracy. The short (centimetric) wavelengths on which this depends carry with them the intrinsic limitation of only being able to detect objects within the 'line of sight'. (In some exceptional atmospheric conditions 'super-refraction' occurs and it is possible to see for short distances over the horizon, but this is unreliable and limited in its application.) As aircraft speeds and ranges increased it became apparent that much earlier warnings were required generally. In Australia's case, such early warning would be particularly useful because of the size of the continent and the disposition of its limited air defence capability. It was natural, particularly in view of Australia's eminence in civil ionospheric research, to look for ways of extending radar range by the use of metric wavelengths, exploiting the ionosphere as a reflector as in classical short wave communications. An attempt was made in the 1950s to test the feasibility of this using more or less conventional centimetric radar techniques applied to wavelengths appropriate to ionospheric reflection. The experiment was in advance of the needed arts in frequency management, aerial design and computing power, and the results were not conclusive.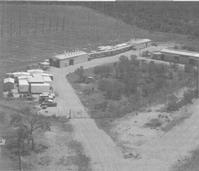 20 Jindalee
The idea was not pursued for many years until some research at Woomera encouraged the United States scientists to reveal in exchange the progress that they had made in over the horizon radar. Co-operative work was begun under the NAMRAD agreement. Exchanges of information of mutual benefit between Australia and the USA, and the loan of some initial equipment from the USA enabled an effective program to begin.
In the intervening years from the first experiment, computing power had increased in magnitude and speed, antenna design had developed, and a 'work horse' experiment to test the coherence of the ionosphere -among other things -was seen to be justified. During the experiment, staff of DSTO, largely led by J. A. W. Strath, made fundamental contributions to our understanding of the ionosphere, to antenna design, frequency management, and computing systems, so that it was possible to think of a more elaborate experiment directed to Australian conditions, and one which might eventually be converted to an operational system.
This experiment became known as Jindalee. Highly innovative techniques were used to obtain accuracy and reliability. Located in the centre of Australia, it was a great success and was able to make observations of aircraft at great distances from our coast with great precision. Central planning staff of DSTO in collaboration with the Navy, Air Force and DRCS developed concepts for its further development and application. Its superiority over other systems and its relevance has justified its extension in capability and its integration into the national defence system. Conversion studies were done at AWA and Computer Systems Australia (CSA).
---
Organisations in Australian Science at Work - Defence Research Centre, Salisbury (D.R.C.S.); Defence Science and Technology Organisation (D.S.T.O.); Project Jindalee

People in Bright Sparcs - Strath, J. A. W.



© 1988 Print Edition pages 967 - 969, Online Edition 2000
Published by Australian Science and Technology Heritage Centre, using the Web Academic Resource Publisher
http://www.austehc.unimelb.edu.au/tia/954.html