Table of Contents
---
Glimpse of the RAAF Meteorological Service

Preface

Foreword

Introduction

Chapter 1: Growing Up

Chapter 2: Port Moresby Before Pearl Harbour
Sydney to Port Moresby by DH-86
First Impressions of Port Moresby
Meteorological Office Routine
Flight to Kokoda
Tropical Meteorology
John (Doc) Hogan
Setting up House
We Join the RAAF
A Contrast in Attitudes
Some RAAF History
RAAF No 10 Squadron
RAAF No 11 Squadron
The Catalina Story
Construction of the Seven-mile Airstrip and Reclamation Area
Meteorological Service for the RAAF
Unexpected Vistitors
Our State of Readiness
Our Domestic Situation
A Japanese Surprise Packet
What Had We Meteorologists Achieved?

Chapter 3: Port Moresby After Pearl Harbour

Chapter 4: Allied Air Force HQ and RAAF Command, Brisbane

Chapter 5: Japan Surrenders and We Are Demobilised

Epilogue

Acknowledgements

Appendix 1: References

Appendix 2: Milestones

Appendix 3: Papers Published in Tropical Weather Research Bulletins

Appendix 4: Radiosonde Observations 1941–46


---
Index
Search
Help
Contact us

Meteorological Office Routine (continued)
We plotted pilot balloon observations from our widely-spaced network of meteorological offices on our surface chart in the form of a 'snake'. The direction of the wind in the first 1000 feet of altitude was indicated by a short stroke in the direction of airflow with the windspeed in that layer being written adjacent to the stroke. The wind direction in the next 1000 foot layer was represented by another short stroke beginning at the end of the previous stroke with the windspeed in that layer being represented as before. Thus the 'snake' was composed of a series of short strokes representing wind direction for all layers observed, which on clear cloudless days might extend to over 20,000 feet. Altitude was indicated at the junction of the strokes in thousands of feet. On days of overcast low cloud the 'pilot' observations often did not extend beyond two or three thousand feet.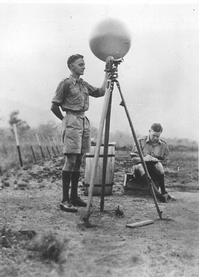 Figure 4 Gibbs and Hannay about to make pilot balloon observation of upper winds, Port Moresby, 1941. At that time the professional meteorologists were jacks of all trades, making observations, plotting and analysing charts and making forecasts.
I did not have many customers in this, my first experience as a practising meteorologist. They included Joss Crisp and his copilot in the weekly Carpenters Airlines DH-86 service which flew from Sydney to Port Moresby, Salamaua and Rabaul and return to Sydney with overnight stops at Townsville and Salamaua. Other customers were Norman Fader, flying his Fokker tri-motor between Port Moresby and the gold-mining centres of Kokoda, Wau and Bulolo; the pilots of the two RAAF Short Empire 'C' Class flying boats which were the only aircraft operated at that time by No 11 Squadron at its operational base in the town of Port Moresby; and the pilots of other itinerant aircraft such as those associated with oil exploration in the Gulf of Papua. By today's standards the meteorological services provided were distinctly unsophisticated. We had no radiosondes providing observations of temperature and humidity of the upper air, no radar for wind-finding or weather watching, no automatic weather stations in the Coral Sea, and no meteorological satellites to provide a continuous identification and tracking of clouds and other useful information over the data sparse oceans. This lack of sophistication was mirrored by that of our aeradio and aerial navigation systems and the primitive technology in the aircraft.
In retrospect I am amazed at our effrontery in attempting to make forecasts with such little data and such a poor knowledge of mechanisms of the tropical atmosphere. We were able to trace narrow isolated cloud bands which were generally aligned along the direction of the wind and mostly moved slowly towards the equator, but they had a tendency to wax and wane. When upper winds were available at flying level from departure and arrival aerodromes we made a linear interpolation between the two points. But overall our synoptic chart did not contain a great deal of information.
---
People in Bright Sparcs - Gibbs, William James (Bill)


Gibbs, W. J. 1995 'A Glimpse of the RAAF Meteorological Service', Metarch Papers, No. 7 March 1995, Bureau of Meteorology

© Online Edition Australian Science and Technology Heritage Centre and Bureau of Meteorology 2001
Published by Australian Science and Technology Heritage Centre, using the Web Academic Resource Publisher
http://www.austehc.unimelb.edu.au/fam/0394.html