Table of Contents
---
Glimpse of the RAAF Meteorological Service

Preface

Foreword

Introduction

Chapter 1: Growing Up

Chapter 2: Port Moresby Before Pearl Harbour
Sydney to Port Moresby by DH-86
First Impressions of Port Moresby
Meteorological Office Routine
Flight to Kokoda
Tropical Meteorology
John (Doc) Hogan
Setting up House
We Join the RAAF
A Contrast in Attitudes
Some RAAF History
RAAF No 10 Squadron
RAAF No 11 Squadron
The Catalina Story
Construction of the Seven-mile Airstrip and Reclamation Area
Meteorological Service for the RAAF
Unexpected Vistitors
Our State of Readiness
Our Domestic Situation
A Japanese Surprise Packet
What Had We Meteorologists Achieved?

Chapter 3: Port Moresby After Pearl Harbour

Chapter 4: Allied Air Force HQ and RAAF Command, Brisbane

Chapter 5: Japan Surrenders and We Are Demobilised

Epilogue

Acknowledgements

Appendix 1: References

Appendix 2: Milestones

Appendix 3: Papers Published in Tropical Weather Research Bulletins

Appendix 4: Radiosonde Observations 1941–46


---
Index
Search
Help
Contact us

The Catalina Story (continued)
Although the original Australian order was for seven Catalinas, by October 1941, civilian Qantas pilots had delivered 19 Catalinas to the RAAF's flying boat base at Rathmines (near Newcastle in New South Wales).

After completing a conversion course at Rathmines former Qantas pilot Eric Sims delivered the first Catalina to Port Moresby in March 1941. By August 1941 the number of Catalinas in No 11 Squadron in Port Moresby had increased to six.

The PBY Catalina (Figure 15) was quite different from the Short Empire 'C' Class flying boat (Figure 13). The Short Empire 'C' Class flying boat stood high out of the water like a large ferryboat and, having been designed as luxury accommodation for airline passengers, was roomy with much headroom. The flight deck for pilot and aircrew was high above the water. The range of the Short Empire 'C' Class flying boat was somewhat limited.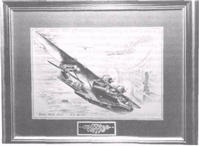 Figure 15 Consolidated PBY flying boat, Catalina A24-81 of RAAF No 20 Squadron. This framed print was presented to the Frosterley Club by Air Commodore K. R. Blakers, on behalf of the RAAF, on the occasion of the 50th anniversary of the formation of the RAAF Meteorological Service.
The Catalina rode low in the water with a fuselage like the top of a submarine without the conning tower. The cockpit at the front of the aircraft was close to water level and the wing was held above the fuselage by a slim streamlined vertical column and two wing struts. Whereas the fairly large windows of the Short Empire 'C' Class flying boat permitted a good view from the cabin, the only view from the Catalina was from the cockpit windows up front and the two gunblisters, one on either side of the fuselage, aft of the wing. The Catalina had the tremendous advantage of flight endurance of as much as 20 hours without refuelling.
Eric Sims took me on a brief flight around Port Moresby in the copilot's seat of a Catalina. It was noisy but exciting, especially when Eric allowed me to drive it for a while. I had a longer trip as a passenger on a Short Empire 'C' Class flying boat to a coconut plantation to the south-east of Port Moresby. With its four engines, the Short Empire 'C' Class flying boat took off without trouble. With its two engines, the Catalina, especially with heavy loads of petrol and bombs or mines, often took a run of a kilometre or more before becoming airborne.
---
Gibbs, W. J. 1995 'A Glimpse of the RAAF Meteorological Service', Metarch Papers, No. 7 March 1995, Bureau of Meteorology

© Online Edition Australian Science and Technology Heritage Centre and Bureau of Meteorology 2001
Published by Australian Science and Technology Heritage Centre, using the Web Academic Resource Publisher
http://www.austehc.unimelb.edu.au/fam/0410.html