Table of Contents
---
Meteorological Work in Australia

Meteorological Work in Australia: A Review

Map No. 1—February 18th, 1890

Map No.2—January 14th, 1891

Map No.3—March 12th, 1891

Map No. 4, February 5th. 1890, and Map No .5, May 27th, 1893

Map No. 6, June 22nd, 1893

Map No. 7, July 14th, 1893

Seasonal Forecasts

Droughts

Conclusion


---
Index
Search
Help
Contact us

Map No. 4, February 5th. 1890, and Map No .5, May 27th, 1893

Show low pressure valleys stretching across the continent connecting the tropical and south low pressure belts. These are frequently productive of good general rains; the winds on the east side of the trough are northerly, and southerly on the west side—strong if the valley is narrow and nipped up between two "highs" with steep gradients on either side.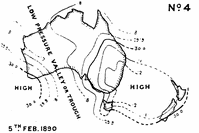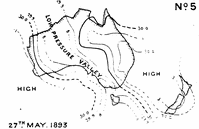 Map No. 4, February 5th. 1890, and Map No .5, May 27th, 1893
With No. 4 map the weather was cloudy and unsettled in the rear or west side of the low pressure trough, with showers all along the coastline of Western Australia; in advance of the low pressure valley it was partially clouded in central and north Australia, gloomy and sultry in South Australia with steady rain falling over the northern areas, very hot (95° at Eucla) over the head of the Great Australian Bight, fine and warm in Victoria and Tasmania, cloudy in eastern Queensland and north-east parts of New South Wales, and thundery in Central Queensland.
The maps for the previous day or two show that the formation of the valley of low barometers was preceded by a general taking off of pleasure over the interior of Western Australia on the 3rd.
Next morning, the 4th, the valley was very well defined, the weather chart for that date being almost identically the same as that on the 5th. Splendid general rains set in over South Australia during the afternoon and evening of the 4th, extending from Strangways Springs to the Mount Lofty Ranges. Subsequent maps show that as the isobars moved eastward the low pressure valley or trough underwent considerable modification, though the valley-like depression was clearly. marked in each map.
The heavy steady rains which fell in advance of the valley in South Australia did not, however, extend to the eastern colonies, and its effect on the weather in New South Wales and Victoria was to produce sultry and oppressive conditions, which culminated later on in heavy thunderstorms and rains over a large part of both colonies.
The weather with No. 5 map was cloudy to gloomy in southern West Australia, with heavy showers on south coast, fine and clear in the north. All over South Australia (nearly across the continent), Victoria, Tasmania, and the western half of New South Wales it was cloudy to gloomy, and threatening with rain falling in the northern areas of South Australia, and in places in the other colonies: in Queensland fine but cloudy.
---
People in Bright Sparcs - Todd, Charles


Todd, C. 1893 'Meteorological Work in Australia: A Review' Australasian Association for the Advancement of Science vol. v, 1893, pp. 246-270.

© Online Edition Australian Science and Technology Heritage Centre and Bureau of Meteorology 2001
Published by Australian Science and Technology Heritage Centre, using the Web Academic Resource Publisher
http://www.austehc.unimelb.edu.au/fam/1562.html