Table of Contents
---
Chapter 1

I Groping In A Strange Environment: 1788-1851

II Farmers Take The Initiative: 1851-1888

III Enter Education And Science: 1888-1927

IV Agricultural Science Pays Dividends: 1927-1987
i CSIR and CSIRO
ii Returns from agricultural research
iii Research funding

V Examples Of Research And Development 1928-1988

VI International Aspects Of Agricultural Research

VII Future Prospects

VIII Acknowledgements

References

---
Index
Search
Help
Contact us

Agricultural Science Pays Dividends: 1927-1987
CSIR and CSIRO
The advent of the First World War highlighted the paucity of scientific research for the benefit of industry in Britain and, as a result, the Department of Scientific and Industrial Research (DSIR) was established in 1916. The British Government White Paper outlining this scheme was also read in Australia, where it prompted the Commonwealth Government to set up its own Advisory Council of Science and Industry also in 1916. This Council was to initiate research through existing institutions until an institute could be created. In 1920 the Institute of Science and Industry was established but was replaced in 1926 by the Commonwealth Council for Scientific and Industrial Research (CSIR). In 1949, after the Second World War, this became the Commonwealth Scientific and Industrial Research Organization (CSIRO).

Although the origins of the DSIR and the CSIR were similar, the ways in which the two organizations were to develop were different. Agricultural research was already being fostered under the terms of the Development and Road Improvement Acts of 1909 and 1910 in the United Kingdom, and therefore agriculture was not to become an interest of the DSIR. In Australia, however, there was no comparable body to encourage agricultural research, and urban industrial activity was comparatively small, particularly in terms of export potential. Therefore the main emphasis of the Advisory Council and, later, CSIR, was placed on research for the rural industries (mainly cropping and pastoral industries). Progress was slow until CSIR was formed in 1926.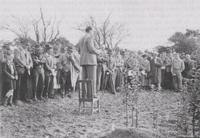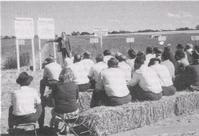 2 For more than 100 years Australian farmers have encouraged and helped to fund agricultural research. They have generally been quick to use new technologies and have benefited hugely from doing so.
At this time there was strong Imperial interest in promoting rural industries in the British Empire both in economic terms and through scientific research. For instance, in order to encourage interchange of information among research workers throughout the Empire, the United Kingdom government established the Empire Marketing Board in 1926 (a misnomer, as a high proportion of its funds were used to sponsor agricultural research in the British Empire); the first Imperial Agricultural Research Conference was held in London in 1927; and the Imperial Bureaux of Entomology and Mycology were set up before the 1927 conference (and eight more Imperial Bureaux after it). In addition to this strong Imperial encouragement for agricultural research, the Australian Government was also aware of the importance of the rural industries to Australia's balance of payments. The five main areas of research selected for initial attention by the CSIR all had the potential to help increase exports or import substitution -they were plant pests and diseases; animal pests and diseases; fuel problems; food problems, and especially cold storage; and the problems of forest products. The emphasis on pests and diseases was a continuation of the concerns of the State Departments of Agriculture since their inception in the late 19th century.
---
Organisations in Australian Science at Work - CSIRO; Empire Marketing Board



© 1988 Print Edition pages 24 - 26, Online Edition 2000
Published by Australian Science and Technology Heritage Centre, using the Web Academic Resource Publisher
http://www.austehc.unimelb.edu.au/tia/030.html