Table of Contents
---
Chapter 1

I Groping In A Strange Environment: 1788-1851

II Farmers Take The Initiative: 1851-1888

III Enter Education And Science: 1888-1927

IV Agricultural Science Pays Dividends: 1927-1987

V Examples Of Research And Development 1928-1988
i Land assessment
ii Improving the environment
iii Adapting to the environment
iv Improving farm management

VI International Aspects Of Agricultural Research

VII Future Prospects

VIII Acknowledgements

References

---
Index
Search
Help
Contact us

Pasture improvement (continued)

Meanwhile, a quiet invasion had been occurring. Subterranean clover, a weed of the Mediterranean region, had found its way into the pastures of southern Australia, probably from a number of different accidental introductions in hay brought with livestock on ships, or as an impurity in imported seeds. During the 1890s a number of farmers had noticed it in their pastures in Victoria and South Australia and encouraged its growth. In particular, A. W. Howard, a nurseryman with a small farm at Mount Barker near Adelaide, found it in his own and his neighbour's pastures in 1889 and decided that it had a high potential as a pasture species. From 1907 onwards Howard publicized its usefulness and developed a small trade in its seed, although, because it was difficult to thresh, a good supply of seed only became available after the problems of harvesting and threshing had been overcome in the 1920s. By this stage farmers were aware of the value of superphosphate and Departments of Agriculture in the Southern States were advising farmers on the establishment of subterranean clover and ryegrass pastures fertilized with superphosphate - a combination, popularly known as 'sub and super', that led to marked increases in pasture productivity and therefore in livestock carrying capacity.

The success of subterranean clover subsequently led to the use of a number of Medicago species on highly alkaline soils and in areas which were unsuited to subterranean clover because of their low rainfall. The combination of a legume with a ryegrass cultivar appropriate to the rainfall formed the basis for the improvement of countless hectares of pasture land and also provided the pasture phase for mixed farming of a type previously only possible in high rainfall areas. Thus, after the depression of the 1930s and the impoverishment and erosion of many wheat farms, rehabilitation throughout much of the wheat belt was made possible by a rotation which included sown legumegrass annual pastures and grazing sheep. This sheep-wheat rotational system of farming has now been adopted generally in wheat growing regions in Australia and is being used successfully in some regions of North Africa and the Middle East which have similar climates and soils.

The development of viable, highly productive annual and perennial pastures, on which so much of Australia's agricultural progress has depended, however, was not a simple and uncomplicated story of 'sub and super' and the adoption of rotational systems of sheep-wheat farming.
The story of pastures during the [first] 50 years of Federation provides a fascinating pattern of development, yet it is a fact that practically every endemic plant that is being used for pasturage today was already known and described and that most of the naturalised and introduced plants now used were already here, though the potentialities of several important sown pasture species of today either were not known, or were realised by the few.[85]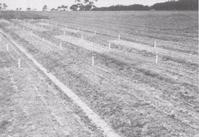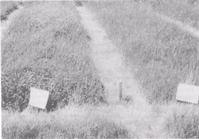 5 A common sight in the Australian countryside, particularly between the mid-1930s and the mid-1970s, were field plots testing new plant varieties, fertilizers, weedicides or methods of management.
---
Organisations in Australian Science at Work - CSIRO

People in Bright Sparcs - Howard, A. W.



© 1988 Print Edition page 54, Online Edition 2000
Published by Australian Science and Technology Heritage Centre, using the Web Academic Resource Publisher
http://www.austehc.unimelb.edu.au/tia/057.html