Table of Contents
---
Chapter 9

I Introduction

II The Australian Chemical Industry

III Pharmaceuticals

IV Chemists In Other Industries

V The Dawn Of Modern Chemical Industry - High Pressure Synthesis

VI The Growth Of Synthetic Chemicals - Concentration, Rationalisation And International Links
i Phenothiazine for Australia's sheep and cattle
ii Some innovative organic syntheses
iii Factory R&D

VII Australian Industrial Chemical Research Laboratories

VIII The Plastics Industry

IX The Paint Industry

X Acknowledgements

References

---
Index
Search
Help
Contact us

The Growth Of Synthetic Chemicals - Concentration, Rationalisation And International Links (continued)

While these were merely arrangements between two private enterprises, their impact was broad because of the breadth of ICI's position in the UK chemical industry and the still strong links between Australia and the UK, particularly during the wars and up to the 1960s. Perhaps no other company, not even the old I. G. Farben, could have offered the range of innovations which emerged from ICI UK, or to which it had access through its links to the largest US chemical company, Du Font and to I. G. Farben's war-time records. ICI inventions between 1927 and 1958 were: Methyl methacrylate (the monomer for 'Perspex' transparent plastic); polyethylene; benzenehexachloride (insecticide); the hormone weedkillers; new drugs such as 'Paludrine', 'Mysoline', 'Antrycide', 'Fluothane'; 'Monastral Blue', 'Alcian' and 'Procion' dyes; ICI had access to and developed synthetic ammonia; synthetic petrol from coal; poly-vinylchloride; nylon; 'Terylene' polyester; titanium metal and carbonylation products (0X0 plasticiser alcohols).[81] Selection from this portfolio gave ICI Australia the option to enter manufactures progressively with product after product and encouraged early manufacture and technology assessment skills. Indeed, over the half century from the 1920s to the 70s its business changed from 75 per cent importation to over 90 per cent local manufacture.

In 1928 ICI acquired a forty per cent holding in BALM (now DULUX) and in 1929, under licence from DuPont, built a leather-cloth factory for the emerging furniture and car industries.

A major gap in Australia's manufacture was alkali. Sodium carbonate was needed for glass making, soap, wool scouring, flotation and water softening; sodium bicarbonate for flour; caustic soda for paper, textile, detergents, glycerine etc. When at the end of the First World War supplies of alkali ran out, the Government set up a committee under Sir Russell Grimwade to explore local manufacture. The investigation took some years and involved also a local ideas man, C. P. McPhail, and Sir David Rivett, Chairman of the CSIRO. The most appropriate route was the Belgian Solvay ammonia soda process. Ludwig Mond, founder of one of ICI's constituent companies, had recognised the merit of this revolutionary, but complex process at a very early stage and secured a cheap exclusive licence and developed the process further in the U.K. ICI Australia was therefore in a position to sanction a Solvay ammonia soda plant in 1935. Construction and start-up (1940) of the plant were major technical feats. Australian contributions were significant, particularly in the design of the salt crystallisation and harvesting system and engineering. This development, too was very timely; when war broke out the plant suddenly became vital to the economy. Over the years it was expanded repeatedly and yields were optimised; in the 1980s it produced close to 400,000 tones p.a.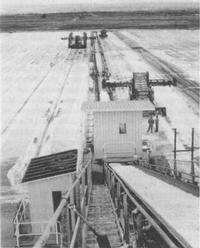 17 Salt harvesting at Osborne, South Australia. The walking conveyor bet travels across the salt field. Solar drying of salt form the sea is probably Australia's earliest solar energy process.
---
Organisations in Australian Science at Work - BALM Paints; Cuming Smith and Co.; DULUX Australia Ltd; I.C.I. Australia Ltd; Mount Lyell Mining and Railway Company

People in Bright Sparcs - Grimwade, Sir W. R.; McPhail, G. K.; Raws, Sir Lennon; Rivett, Sir David



© 1988 Print Edition pages 673 - 674, Online Edition 2000
Published by Australian Science and Technology Heritage Centre, using the Web Academic Resource Publisher
http://www.austehc.unimelb.edu.au/tia/640.html