Table of Contents
---
RAAF Meteorological Service

Foreword

Introduction

Chapter 1: The Weather Factor in Warfare
The Weather and Chemical Warfare
Weather Control

Chapter 2: Establishing and Developing the RAAF Directorate of Met. Services (D.Met.S)

Chapter 3: Recruiting and Training of Personnel

Chapter 4: Meteorology in Aviation

Chapter 5: The Met. Retreating

Chapter 6: The Met. Advancing

Chapter 7: The Met With the Army and the Navy

Chapter 8: Divisional Offices of the Bureau of Meteorology During the War

Chapter 9: Research and Instrumental Development

Chapter 10: The End, Aftermath, and Beyond

Appendix 1

Appendix 2

Appendix 3

Appendix 4

References

---
Index
Search
Help
Contact us

The Weather and Chemical Warfare
D. P. Mellor claims that the war of 1914–18 was the first in which specialised meteorological information was extensively used.[10] A meteorological field service was set up in France under a professional assistant with the rank of Lieutenant. This service, which later became known as the meteorological section of the Royal Engineers, grew rapidly, and, by the end of the war, numbered 28 officers and 187 other ranks. Taking advantage of the weather, gas warfare was used more extensively during World War I than before or since.

Flying Officer Don Fifer and Flying Officer Steve Lloyd were the two RAAF Met. officers mostly concerned with chemical warfare in D.Met.S., the former being the first to serve with the special unit. They described how the Australian Field Experimental Station (AFES) was established in 1940–41 near Proserpine (Old) to study all aspects of defence against chemical warfare in the tropical environment. Initially, a pilot group was established under the general control of the Chemical Defence Board, a combined civil/military advisory body based in Melbourne. The initial group was housed at the University of Melbourne.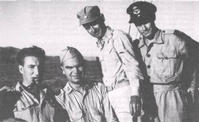 Figure 2 From left to right. Stuart Reavill of Porton Downs (chemist of UK Civil Service), two American Army scientists attached to the Australian Field Experimental Station and Flight Lieutenant Steve Lloyd taken on a boat somewhere in the Whitsunday Passage.
An offshoot of the AFES was established at Innisfail to investigate chemical warfare in tropical rainforest or jungle conditions. The rationale, according to Steve Lloyd, presumably was, that at some stage of the war, especially if the tide of events was running against them, the Japanese might resort to some sort of combat involving noxious and destructive liquids and gases, such as mustard gas.
---
Organisations in Australian Science at Work - Directorate of Meteorological Services (D.Met.S)

People in Bright Sparcs - Lloyd, Stephen Henry (Steve)


Joyce, J. 1993 'The Story of the RAAF Meteorological Service', Metarch Papers, No. 5 October 1993, Bureau of Meteorology

© Online Edition Australian Science and Technology Heritage Centre and Bureau of Meteorology 2001
Published by Australian Science and Technology Heritage Centre, using the Web Academic Resource Publisher
http://www.austehc.unimelb.edu.au/fam/0216.html