Table of Contents
---
RAAF Meteorological Service

Foreword

Introduction

Chapter 1: The Weather Factor in Warfare

Chapter 2: Establishing and Developing the RAAF Directorate of Met. Services (D.Met.S)

Chapter 3: Recruiting and Training of Personnel

Chapter 4: Meteorology in Aviation

Chapter 5: The Met. Retreating

Chapter 6: The Met. Advancing
The Coral Sea Battle—May 1942
The Battle of Milne Bay—24 August to 8 September, 1942
The Bismarck Sea Battle—1 March 1943

Chapter 7: The Met With the Army and the Navy

Chapter 8: Divisional Offices of the Bureau of Meteorology During the War

Chapter 9: Research and Instrumental Development

Chapter 10: The End, Aftermath, and Beyond

Appendix 1

Appendix 2

Appendix 3

Appendix 4

References

---
Index
Search
Help
Contact us

Chapter 6: The Met. Advancing

By April 1942, the Allies in the south-west Pacific had marshalled sufficient strength to withstand the Japanese advance. They then developed the momentum which steadily drove the enemy from the territories which he had occupied. The Met. service accompanied the Allied push, the demand for weather information ever vital in the planning of operations. The historic battles referred to below illustrate the importance of the weather factor in warfare.
The Coral Sea Battle—May 1942
On 3 May 1942, the Japanese, supported by a major aircraft carrier force occupied Tulagi in fine weather. At the time, an extensive convergence zone was moving northward. The captain of the carrier, USS Yorktown, on receiving news of the invasion of Tulagi from air reconnaissance, altered his course and sailed northward under the cover afforded by the convergence zone. The convergence zone lay along southern New Guinea and between the Solomon and New Hebrides groups.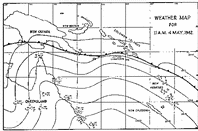 Figure 9 These two figures appear on pp 525 and 526 of Mellor together with a brief discussion of the importance of weather conditions in the battle of the Coral Sea. [62]
On 4 May, Yorktown attacked the Japanese carrier fleet. The US aircraft flew in the concealing overcast until they broke into the clear just before reaching their targets. In the action, the Japanese destroyer Kikuzuki was damaged and later sank. While this was happening, the heavy carriers Zuikaku and Shokaku and a light carrier, Shoho, with attendant cruisers and destroyers sailed from Japanese-occupied Rabaul, the objective to invade Port Moresby as a prelude to the invasion of Australia. Three days later, from the cover of the weather system, the US carriers Yorktown and Lexington engaged the enemy. Believing that the Shoho was the main force, the Americans attacked and sank it. Meanwhile, Japanese aircraft, having missed the two US carriers hidden in the murky weather, spotted the tanker Neosho and the destroyer Sims and sank them.
On 7 May the Japanese force was recalled to Rabaul just as HMAS Australia was approaching the scene. The bad weather now favoured the Japanese who were able to conceal their ships in the murky conditions. The night before, the American and Japanese ships steamed close, unobserved by one another, in clear weather.
Finally, although they had difficulty in locating each other, both sides struck simultaneously. The Allied aircraft found a slight break in the overcast, and were able to bomb and damage the Shokaku. The Zuikaku disappeared into a rain squall and an area of bad visibility. Japanese aircraft converged on USS Lexington in a brief period of bright sunlight and scored hits with bombs and torpedoes, damaging the vessel so severely that it exploded later in the day and sank. The Japanese now withdrew, having fought what was probably the first entirely major air-to-sea battle. Not a single shot had been exchanged by the surface vessels. The convergence zone with its alternating rain squalls, overcast and periods of bright sunshine persisted.
---
Joyce, J. 1993 'The Story of the RAAF Meteorological Service', Metarch Papers, No. 5 October 1993, Bureau of Meteorology

© Online Edition Australian Science and Technology Heritage Centre and Bureau of Meteorology 2001
Published by Australian Science and Technology Heritage Centre, using the Web Academic Resource Publisher
http://www.austehc.unimelb.edu.au/fam/0282.html