Table of Contents
---
RAAF Meteorological Service

Foreword

Introduction

Chapter 1: The Weather Factor in Warfare

Chapter 2: Establishing and Developing the RAAF Directorate of Met. Services (D.Met.S)

Chapter 3: Recruiting and Training of Personnel
Senior Officers
Recruitment and Personnel
The WAAAF
Training Courses
'Who are these Met blokes?'

Chapter 4: Meteorology in Aviation

Chapter 5: The Met. Retreating

Chapter 6: The Met. Advancing

Chapter 7: The Met With the Army and the Navy

Chapter 8: Divisional Offices of the Bureau of Meteorology During the War

Chapter 9: Research and Instrumental Development

Chapter 10: The End, Aftermath, and Beyond

Appendix 1

Appendix 2

Appendix 3

Appendix 4

References

---
Index
Search
Help
Contact us

Training Courses (continued)
The spirit and tone of the training courses were invariably high. Much of this was due to the fine personality of the OIC, Squadron-Leader Doug Forder from South Australia. He was liked and respected by all. He was one of the many school teachers who enlisted and found their way into D.Met.S. Following his own training as a forecaster, Doug Forder was posted to Pearce (W.A.), thence to Malaya, thence back to Pearce for a short period when the Japanese overran the north, and finally to the Melbourne Weather Bureau to take charge of the training section—a post he held for the remainder of the war. Whilst in this position he wrote a book, Analysis and Forecasting in the South-West Pacific Area, about which topic there was a dearth of knowledge. This book was acclaimed by meteorological personnel, including those of the U.S.A., as a valuable contribution. What happened to Doug Forder in Malaya is recounted elsewhere in this story. Suffice it to acknowledge here, he was a fine person who deserved the citation he received from the Chief of the Air Staff at the end of the war.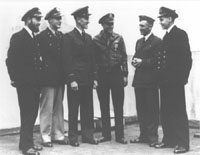 Figure 6 A group of allied weathermen—RN, US, and RAAF—on the roof of the Melbourne Met. Bureau during the war. Fifth from the left is Squadron Leader D. H. Forder, RAAF Officer-in-Charge of the training section. Flying Officer Max Cassidy is third from the left. Australian War Memorial negative no. 044692
Other members of the training section during my sojourn with it were Flight-Lieutenant G. W. (George) Elston, the late Flying-Officer J. R. (Reg) Harrison, and the exuberant Flight-Sergeant (later Flight-Lieutenant) Joe Hobba.
---
Organisations in Australian Science at Work - Directorate of Meteorological Services (D.Met.S)

People in Bright Sparcs - Forder, Douglas Highmoor (Doug)


Joyce, J. 1993 'The Story of the RAAF Meteorological Service', Metarch Papers, No. 5 October 1993, Bureau of Meteorology

© Online Edition Australian Science and Technology Heritage Centre and Bureau of Meteorology 2001
Published by Australian Science and Technology Heritage Centre, using the Web Academic Resource Publisher
http://www.austehc.unimelb.edu.au/fam/0241.html