Table of Contents
---
RAAF Meteorological Service

Foreword

Introduction

Chapter 1: The Weather Factor in Warfare

Chapter 2: Establishing and Developing the RAAF Directorate of Met. Services (D.Met.S)

Chapter 3: Recruiting and Training of Personnel

Chapter 4: Meteorology in Aviation

Chapter 5: The Met. Retreating

Chapter 6: The Met. Advancing

Chapter 7: The Met With the Army and the Navy

Chapter 8: Divisional Offices of the Bureau of Meteorology During the War

Chapter 9: Research and Instrumental Development

Chapter 10: The End, Aftermath, and Beyond

Appendix 1

Appendix 2

Appendix 3

Appendix 4

References

---
Index
Search
Help
Contact us

Chapter 10: The End, Aftermath, and Beyond (continued)

In the operations room, the CO, duty operations officer, and duty Met. officer were gathered.

'What's on?' I asked.
'A British aircraft carrier, HMS Glory, is standing off Milne Bay', said the CO. The captain is asking for a weather advice and forecast with a view to entering the Bay. There are senior officers aboard the carrier, and it seems they wish to accept the surrender of the Japanese in this area at Milne Bay.'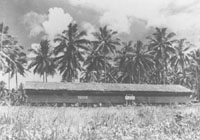 Figure 18 RAAF Met. Station, signals and operations at 43 OBU, Milne Bay 1944. Australian War Memorial negative no. 044688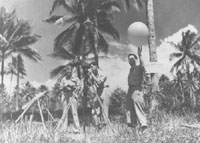 Figure 19 Pilot balloon ascent at Milne Bay, 1944. Note the hydrogen in the generator left background. Australian War Memorial negative no. 044684
It was immediately apparent that the motive behind this was that Milne Bay had been the historic turning point where the Japanese were first decisively defeated on land in a major battle.
I looked at the current weather chart, and conferred with the duty Met. officer, Flying-Officer Bill Jordan of Queensland. The weather at Milne Bay was bad at the time, and showed every indication of deteriorating. The entrance to the Bay was through the treacherous China Straits. For a 13,190 ton aircraft carrier, of 969 feet length, such a passage in the prevailing conditions could only be extremely hazardous. 'It would be dangerous for the ship to attempt entry', I said to the assembled officers. I then explained the situation, and concluded by suggesting that Glory be advised to proceed to Rabaul and arrange the surrender there. The weather at Rabaul was good, and indications were that it would hold that way for at least 48 hours. A signal incorporating this advice was despatched to Glory. Shortly afterwards a peremptory acknowledgement was received, asking for confirmation. 'They seem to be ordering us to fix the bloody weather for them!' snapped the CO.
'Well,' I stated, 'as far as the weather is concerned, we simply confirm the original report'.
We heard no more from the carrier, but sometime later, the sequel unfolded. From a chapter—'After the Cease Fire' in The Final Campaign—the following extract is taken:

'General Sturdee was informed on 22 August 1945 that the British Pacific Fleet would probably make an aircraft carrier available for the surrender of the Japanese commanders on New Britain; later we learned that the carrier HMS Glory and other vessels as escort would be used.'[100]
---
Joyce, J. 1993 'The Story of the RAAF Meteorological Service', Metarch Papers, No. 5 October 1993, Bureau of Meteorology

© Online Edition Australian Science and Technology Heritage Centre and Bureau of Meteorology 2001
Published by Australian Science and Technology Heritage Centre, using the Web Academic Resource Publisher
http://www.austehc.unimelb.edu.au/fam/0327.html