Table of Contents
---
Glimpse of the RAAF Meteorological Service

Preface

Foreword

Introduction

Chapter 1: Growing Up

Chapter 2: Port Moresby Before Pearl Harbour

Chapter 3: Port Moresby After Pearl Harbour

Chapter 4: Allied Air Force HQ and RAAF Command, Brisbane
General Douglas MacArthur
We Join Allied Air Headquarters, Brisbane
Ralph Holmes
Forecasting Procedure
WAAAFs and Other Staff
Briefing MacArthur & Co
Domestic Affairs
The Yanks Are Coming
Japanese Advance Across Owen Stanley Range
General George C. Kenney
Additional Staff
Staff Arrangements
Long Range Forecast
Investigations into Tropical Meteorology
Radiosondes
Analysis Statements
MacArthur's Remarkable Strategy
A New Direction
Tropical Weather Research Bulletin
RAAF Command, Pat Squires and Henry Phillpot

Chapter 5: Japan Surrenders and We Are Demobilised

Epilogue

Acknowledgements

Appendix 1: References

Appendix 2: Milestones

Appendix 3: Papers Published in Tropical Weather Research Bulletins

Appendix 4: Radiosonde Observations 1941–46


---
Index
Search
Help
Contact us

RAAF Command, Pat Squires and Henry Phillpot
Buildings to accommodate RAAF Command Headquarters had been erected on a site adjacent to the Victoria Park golf course, only two kilometres from the AMP building in the centre of the city of Brisbane, in which our Allied Air Headquarters meteorological office was located. Ralph had lived in the RAAF barracks at Victoria Park from the time of their erection. After the transfer of MacArthur's headquarters to Hollandia, our RAAF Command meteorological section remained in the AMP building for some time.

In 1944 our office moved to separate accommodation on the site of the RAAF Command Victoria Park headquarters. We continued to prepare and issue analysis statements and used the data from a network of about 10 radiosonde stations and from pilot balloon stations to prepare upper air charts. I believe we had prepared our first upper air charts in late 1943 but cannot remember whether these were distributed to field offices. These upper air charts and the aerological diagrams which we routinely plotted for each radiosonde station, provided new horizons for our investigations of the mechanisms of the atmosphere in the tropics.

Sqn Ldr Pat Squires and Flt Lt Henry Phillpot, who had been working in the AMFA section in the Directorate of RAAF Meteorological Services in Melbourne since its establishment in the early years of the war, joined us in our office at RAAF Command early in 1945. Figure 17 pictures some of our staff at that time.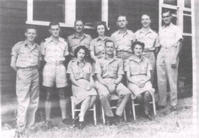 Figure 17 Staff of RAAF Command Meteorological Section, Brisbane 1945. Left to right seated: ACW Pat Cameron, Sqn Ldr Ralph Holmes, Sgt Nan Gaby. Left to right standing: Cpl Bradley ?, Sqn Ldr Pat Squires, P/O Geoff Martin, Sgt Joy McAllen, Sqn Ldr Bill Gibbs, F/O Henry Phillpot, and Cpl Holland.
Pat Squires was a brilliant research worker who found the somewhat repetitive routine of synoptic analysis and forecasting unattractive. He had been a member of the forecasters' course in 1937 on which John Lillywhite, Neil McRae and other notable members of the RAAF Meteorological Service had been members. Pat participated in the analysis routine of the office but was absent from time to time, being involved in a special research program concerned with the effect of atmospheric conditions on the propagation of microwave transmissions. After the war Pat joined the CSIRO Division of Radiophysics in which he undertook some significant experiments in cloud seeding. Later he was appointed to the staff of the prestigious National Center for Atmospheric Research in Boulder, USA.
---
Organisations in Australian Science at Work - Air Mass and Frontal Analysis Section (AMFA)

People in Bright Sparcs - Lillywhite, John Wilson; McRae, John Neil; Phillpot, Henry Robert; Squires, Patrick; Warren, Herbert Norman


Gibbs, W. J. 1995 'A Glimpse of the RAAF Meteorological Service', Metarch Papers, No. 7 March 1995, Bureau of Meteorology

© Online Edition Australian Science and Technology Heritage Centre and Bureau of Meteorology 2001
Published by Australian Science and Technology Heritage Centre, using the Web Academic Resource Publisher
http://www.austehc.unimelb.edu.au/fam/0463.html