Table of Contents
---
Memories of the Bureau of Meteorology

Preface

Memories of the Bureau of Meteorology 1929–1946 by Allan Cornish
Foreword
Chapter 1: My Early Days in the Bureau
Chapter 2: Some New Vistas
Chapter 3: The RAAF Measures Upper Air Temperatures
Chapter 4: The Bureau Begins to Grow
Chapter 5: My Voyage in Discovery II
Chapter 6: The Birth of the Instrument Section
Chapter 7: Darwin Days
Chapter 8: I Leave the Bureau

History of Major Meteorological Installation in Australia from 1945 to 1981 by Reg Stout

Four Years in the RAAF Meteorological Service by Keith Swan

The Bureau of Meteorology in Papua New Guinea in the 1950s by Col Glendinning


---
Index
Search
Help
Contact us

Chapter 1: My Early Days in the Bureau (continued)
Hunt kept a tussore silk suit in his office. On hot days he would pull it over his clerical greys and parade in Collins Street on the way to the Melbourne Club. Hunt was well known as Commonwealth Meteorologist and wished to be seen as correctly dressed for the hot weather. There was at least one occasion when he arrived back from lunch with his tussore silk suit dripping with rain.

The location of staff in those days was as follows.

Downstairs, in the room to the right as you entered the main lobby, where the Climate Section was later located, Watt had his office as Assistant Director. At that stage Stan Richards ran the Climatological Section and had an office table outside Hunt's room. Walter Dwyer was a Met Assistant with that group. Freddy Weisser was an Assistant Meteorologist, which was a new position. Jack Hogan (1896–1970) was also an Assistant Meteorologist and was doing a part-time course at the university.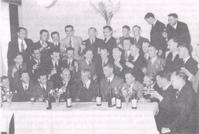 Some Head Office members of the Bureau of Meteorology at a social occasion in Melbourne in the late 1930s. Seated at table from left to right—Jack Nance, not identified, Allan Cornish, H. N. Warren, W. S. Watt, E. W. Timcke, H. M. Treloar, John Hogan (1896–1970).
So on the upper floor of No 2 Drummond Street were Richards, Dwyer and Weisser and perhaps Wilson. We were all in the Third Division although the Meteorological Assistants were on a lower Grade. For appointment to Meteorological Assistant the equivalent of qualification for matriculation (Year 12) was necessary. There was no specific qualification needed for appointment as Assistant Meteorologist.
On the ground floor the weather room was on the left as you entered the lobby. Ackeroyd was in charge and Alfie Rose worked with him. The bulletin was prepared in the weather room while Ackeroyd prepared the isobaric chart. Hunt would come down at lunch-time to look at the isobaric chart after he had made his forecast. Although the weather room was part of the Central Office it carried out many of the functions of the Divisional Offices in other States.
There was no official Divisional Meteorologist for Victoria. Ackeroyd, who was a fairly senior Meteorologist, prepared the isobaric charts every day.
---
People in Bright Sparcs - Cornish, Allan William; Dwyer, Walter Anthony; Hogan, John; Hunt, Henry Ambrose ; Richards, Alfred Stanley (Stan); Weisser, Fred


Cornish, A., Stout, R., Swan, K and Glendinning, C. 1996 'Memories of the Bureau of Meteorology', Metarch Papers, No. 8 February 1996, Bureau of Meteorology

© Online Edition Australian Science and Technology Heritage Centre and Bureau of Meteorology 2001
Published by Australian Science and Technology Heritage Centre, using the Web Academic Resource Publisher
http://www.austehc.unimelb.edu.au/fam/0503.html