Table of Contents
---
Memories of the Bureau, 1946 to 1962

Foreword

Terminology

Prologue

Preface

Chapter 1: The Warren Years, 1946 to 1950

Chapter 2: International Meteorology
Meetings of the IMO Technical Commissions in Toronto
The IMO Conference of Directors, Washington DC
The US Weather Bureau
Meeting of IMO Regional Association for the South-west Pacific
Meetings of the IMO International Meteorological Committee

Chapter 3: The Timcke Years, 1950 to 1955

Chapter 4: A Year at the Massachusetts Institute of Technology

Chapter 5: The Dwyer Years, 1955 to 1962

Chapter 6: A Springboard for the Future

Appendix 1: References

Appendix 2: Reports, Papers, Manuscripts

Appendix 3: Milestones

Appendix 4: Acknowledgements

Appendix 5: Summary by H. N. Warren of the Operation of the Meteorological Section of Allied Air Headquarters, Brisbane, 1942–45

Endnotes

---
Index
Search
Help
Contact us

Meeting of IMO Regional Association for the South-west Pacific
Warren must have been reasonably satisfied with my performance at the meetings in Toronto and Washington because in 1948 I was his assistant at a meeting of IMO's RA V in Wellington, New Zealand.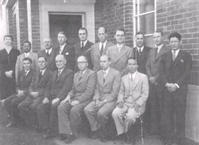 Figure 21 Delegates at the IMO Regional Association for the Southwest Pacific (RA V) Wellington, New Zealand 1948. Front row, left to right unknown, Barnett, H. N. Warren, Giovanelli, unknown, del Rosario. In back row Dyer and Larsen are third and fourth from left and Gibbs, Simmers, Gabites and Po E are at right hand end of row.
RA V covered a very large area including Australia, New Zealand, the Netherlands East Indies, Malaya, the Philippines and all of the islands of the South Pacific west of the International Date Line.
Australia had meteorological responsibility for Papua and New Guinea, the Solomon Islands and the New Hebrides, the UK for Malaya and New Zealand for Fiji. This was a time of colonialism when the countries of Europe and the US were regarded as the focus of learning and culture and Australia, like many other non-European countries, was regarded by many Europeans as on or beyond the cultural and academic fringe. We Australians tended to suffer from a cultural and academic cringe in those days. This was exemplified by Australian Broadcasting Commission (ABC) radio announcers who wore formal clothes and used a refined English accent when reading the radio news.
As President of RA V Warren chaired the formal plenary sessions of the meeting and was able to use his experience in and knowledge of the meetings of the Technical Commissions and Regional Associations in Toronto and the Conference of Directors in Washington in guiding the discussions. He was ably assisted by his Vice-President, Dr M A. F. Barnett, Director of the New Zealand Meteorological Service, who had also attended those meetings.
Warren fell ill during the meetings and was confined for some days to his hotel room in Wellington. Dr Barnett arranged the best medical advice and other assistance but Warren was eager to keep his finger on the pulse of the meeting. During his illness I received his briefing early each morning on the attitude to be adopted when discussing the agenda items for that day and each evening I would deliver to his room any new documents which had been issued and recount the gist of discussions which had taken place.
The meeting of RA V was very valuable in informing those who had not attended the Toronto and Washington meetings of those proceedings. For me it was delightful for I became better acquainted with our South-west Pacific colleagues, especially the New Zealanders.
A strange outcome of the meeting was that we were asked by the New Zealand Government to form a party to travel over the North Island to test the program they had arranged for a visit by their Majesties, King George VI and Queen Elizabeth, planned for later in 1949. Warren was unable to participate but insisted that I should take part. Our New Zealand colleagues who accompanied us were keen that we enjoyed this tour and they were most hospitable in their arrangement of evening entertainment. Ritchie Simmers and Laurie Larsen of the New Zealand Meteorological Service were among those who contributed to a most enjoyable time.
---
People in Bright Sparcs - Warren, Herbert Norman


Gibbs, W. J. 1999 'A Very Special Family: Memories of the Bureau of Meteorology 1946 to 1962', Metarch Papers, No. 13 May 1999, Bureau of Meteorology

© Online Edition Australian Science and Technology Heritage Centre and Bureau of Meteorology 2001
Published by Australian Science and Technology Heritage Centre, using the Web Academic Resource Publisher
http://www.austehc.unimelb.edu.au/fam/0958.html