Table of Contents
---
Weather News

Introduction

History
Fifty Years of Weather History
Weather Officers—25 Years Ago
The Perth RO Since 1929
Remember the Pioneers
Akeroyd the Great
Out with the Old—In with the New [Bill Gibbs / John Zillman]
Dr Bill Gibbs
Dr John Zillman
Meteorological History in the Territory
Edwin Thomas Quayle—Bureau Research Pioneer
Ninety Years Ago: Birth of the Bureau

Personal Notes

Retirements

Obituaries

Observers and Volunteers

Media

Computers


---
Index
Search
Help
Contact us

No. 318 April 1998 (continued)
Staff Soars
By 1919 the permanent staff had grown to 71, in line with the rest of the public service, where non-PMG staff now totalled 3980. Some people on the 1919 list rose to great heights:

Griffith Taylor, 38, Research Officer, became Professor of Geography at Sydney University (1920-28), Chicago (1928-34) and Toronto (1935 on).


H. Barkly, 35, appointed Commonwealth Meteorologist on Hunt's retirement, was defeated on appeal and remained Head of Research until his death in 1938.


W. S. Watt, 43, State Meteorologist in Tasmania, defeated Barkly on appeal and was Commonwealth Meteorologist from 1932-40. E. W.Timke, 29, clerk in South Australia, followed in 1950-55.


A. S. Richards, 32, meteorologist, H. E. Camm, 26, clerk and B. W. Newman, 19, SA clerk, became heads of the Bureau in Queensland, Victoria and NSW respectively.


H. E. Camm became head of the Victorian office.


H. M. Treloar, 20, another clerk in SA, obtained a Doctorate and was author of many papers.


J. C. Foley, 27, clerk in Tasmania, wrote Bulletins on Droughts and Bushfires.


D. Hodge, 45, chief clerk for years.


E. T. Quayle, 56, supervising meteorologist, has been the subject of articles in recent Weather News.
And the computer? Quayle's job title at the Victorian Observatory was 'computer' when he was recruited to the Bureau in 1908 as 4th assistant meteorologist.
Compared to? Port Meteorological Agent Mike Hills has unearthed the UK stats for 1908: the Third Annual Report of the Meteorological Committee to the Lords Commissioners of His Majesty's Treasury reported a staff of 58, ranging from Director, William Napier Shaw, LLD, ScD, FRS to two Boy Messengers.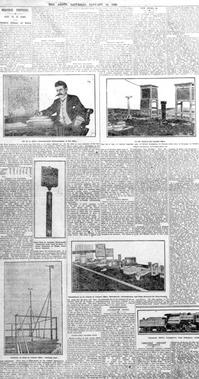 This article "WEATHER PROPHECY. How it is done." from The Argus of 18 January 1908 includes a photo of the first Director, H. A. Hunt.
---
People in Bright Sparcs - Foley, James Charles; Hunt, Henry Ambrose ; Newman, Bernard William (Bernie); Quayle, Edwin Thomas; Richards, Alfred Stanley (Stan); Taylor, Thomas Griffith; Treloar, Harry Mayne; Watt, William Shand



© Online Edition Australian Science and Technology Heritage Centre and Bureau of Meteorology 2001
Published by Australian Science and Technology Heritage Centre, using the Web Academic Resource Publisher
http://www.austehc.unimelb.edu.au/fam/1320.html