Table of Contents
---
Australian Meteorology through the 20th Century

Introduction

The Origins of Australian Meteorology

Meteorology in the 20th Century
The Forecast for the First Parliament
The Meteorology Act 1906
The Birth of the Bureau
The Early Years
Meteorological Services for Civil Aviation
Meteorology at the Universities
The RAAF Meteorological Service
CSIR Meteorological Physics
The Meteorology Act 1955
Flood Warning
Long-range Forecasting
Antarctica
World Meteorological Centre, Melbourne
Regional Forecasting Centres
Global Weather Experiment
Research in the Bureau
Committees of Inquiry

The Weather and Climate of the Twentieth Century

The Great Weather and Climate Events of the Twentieth Century

A Century of Progress in Science and Service

References

Australian Meteorological Milestones of the 20th Century

Endnotes

---
Index
Search
Help
Contact us

Global Weather Experiment
The Global Weather Experiment, the field phase of which took place in 1979, was the largest fully international scientific experiment ever undertaken. It was aimed at improving the accuracy and time range of weather forecasting, guiding the design of the most cost-effective observing systems for operational forecasting and pointing the way towards a scientific basis for climate prediction.

Australian meteorologists were deeply involved in the planning of the Experiment from the early 1970s, and Australian support for the specialised observing systems (such as drifting buoys) deployed during 1979 was critical to its success. For the first time, the global meteorological research community turned their primary attention to the problems of the southern hemisphere (Figure 5) and so laid the foundation for the enormous progress in southern hemisphere meteorology that took place in the closing years of the twentieth century.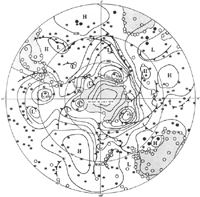 Figure 5 Typical distribution of data over the southern hemisphere during the 1979 Global Weather Experiment. Open circles are land-based synoptic station, solid circles are ships and asterisks are drifting buoys.
Research in the Bureau
After several decades of unsuccessful efforts to obtain Public Service Board agreement to the upgrading of the research role and staffing of the Bureau to enable it to discharge its statutory responsibilities on a sound scientific basis, agreement was finally reached in 1983 to the disbandment of the joint Bureau-CSIRO ANMRC and the establishment of the Bureau of Meteorology Research Centre (BMRC), with Research Scientist staffing, as the upgraded research arm of the Bureau. Under the guidance of former ANMRC Officer-In-Charge, Dr D. J. (Doug) Gauntlett, and the newly appointed BMRC Chief, Dr M. J. (Mike) Manton, the BMRC developed into a world leading research group in southern hemisphere meteorology. It works in close partnership with CSIRO Atmospheric Research under Dr G. I. (Graeme) Pearman AM, and the two organisations have collaborated in a number of major research programs including research associated with Australia's operation of a WMO Global Atmosphere Watch station at Cape Grim in Tasmania.
Committees of Inquiry
The 1976 Committee of Inquiry into the Bureau of Meteorology (CIBM) set in train a lengthy process of restructuring of the Bureau's operations, as well as the establishment of the Meteorology Policy Committee (MPC) which served as a non-statutory external advisory body to the Minister until its disbandment in 1990. It played a major role in inspiring and guiding the re-equipment of the Bureau and the upgrading of its warning services during the 1980s.

Further external inquiries and reviews followed, including a 1987 House of Representatives Expenditure Committee Inquiry into the Provision of Meteorological Services ('Gone with the Winds') and a major external Review of the Operation of the Bureau of Meteorology in 1996, with a follow-up study on Capturing Opportunities in the Provision of Meteorological Services, both led by former Chief Scientist, Professor R. O. Slatyer AC FRS FAA FTSE.
---
Organisations in Australian Science at Work - Australian Numerical Meteorology Research Centre; Bureau of Meteorology Research Centre

People in Bright Sparcs - Gauntlett, Douglas John; Manton, Michael



© Online Edition Australian Science and Technology Heritage Centre and Bureau of Meteorology 2001
Published by Australian Science and Technology Heritage Centre, using the Web Academic Resource Publisher
http://www.austehc.unimelb.edu.au/fam/1606.html