Table of Contents
---
Australian Meteorology through the 20th Century

Introduction

The Origins of Australian Meteorology

Meteorology in the 20th Century
The Forecast for the First Parliament
The Meteorology Act 1906
The Birth of the Bureau
The Early Years
Meteorological Services for Civil Aviation
Meteorology at the Universities
The RAAF Meteorological Service
CSIR Meteorological Physics
The Meteorology Act 1955
Flood Warning
Long-range Forecasting
Antarctica
World Meteorological Centre, Melbourne
Regional Forecasting Centres
Global Weather Experiment
Research in the Bureau
Committees of Inquiry

The Weather and Climate of the Twentieth Century

The Great Weather and Climate Events of the Twentieth Century

A Century of Progress in Science and Service

References

Australian Meteorological Milestones of the 20th Century

Endnotes

---
Index
Search
Help
Contact us

The RAAF Meteorological Service
With the outbreak of World War II, the Bureau of Meteorology passed from the Department of the Interior to the Department of Air in July 1940, with responsibility for providing all meteorological services needed by the defence forces while still continuing to meet civil requirements.

From April 1941 to July 1946, most of the staff of the Bureau served in uniform throughout Australia and the islands as members of the RAAF Directorate of Meteorological Services under the leadership of Group Captain H. N. Warren. Many of the leaders of the civilian Bureau over the following thirty years were first recruited as forecasters during the period of rapid expansion which followed the outbreak of the war. Whether as members of Mobile Met Flights in Timor, New Guinea, Borneo, Malaysia or the New Hebrides, on station around Australia or, later in the war, at Allied Headquarters in Brisbane, the staff of 'The Met' distinguished themselves through their rapid mastery of the challenges of forecasting in the tropics and provision of outstanding weather support for allied operations (Gibbs 1999). In the words of the War Report of the Chief of Air Staff, 'The Met earned and retained the confidence of Allied operational commanders and of associated Allied weather organisations'.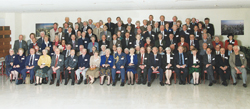 Figure 4 Former members of the RAAF Meteorological Service gather together in Melbourne in August 1995, fifty years after the end of the war.
CSIR Meteorological Physics
The 1945 decision of the CSIR (Council for Scientific and Industrial Research), now CSIRO, to establish a Section for Meteorological Physics to carry out fundamental studies of atmospheric processes was to have a profound impact on the development of Australian meteorology (Garratt et al. 1998). Located at Aspendale, Victoria, under the leadership of Dr C. H. B. Priestley AO from the UK Meteorological Office, the CSIRO Section (later Division) of Meteorological Physics (now CSIRO Atmospheric Research) went on to become a world leader in atmospheric boundary-layer processes, micrometeorology and atmospheric chemistry. Throughout its history, it has had just three Chiefs—Priestley (1946–73), Dr G. B. Tucker (1973–92) and Dr G. I. Pearman AM (1992–). At various stages, it has been involved in co-sponsorship of joint research centres with the Bureau, including the Commonwealth Meteorology Research Centre (CMRC) from 1969 to 1974 and the Australian Numerical Meteorology Research Centre (ANMRC) from 1974 to 1984. The two organisations joined together again in the 1990s as partners in a Cooperative Research Centre for Southern Hemisphere Meteorology located at Monash University.
---
Organisations in Australian Science at Work - Australian Numerical Meteorology Research Centre; Commonwealth Meteorology Research Centre; Cooperative Research Centre for Southern Hemisphere Meteorology; Directorate of Meteorological Services (D.Met.S); Division of Meteorological Physics

People in Bright Sparcs - Priestley, Charles Henry Brian (Bill); Tucker, Gilbert Brian; Warren, Herbert Norman



© Online Edition Australian Science and Technology Heritage Centre and Bureau of Meteorology 2001
Published by Australian Science and Technology Heritage Centre, using the Web Academic Resource Publisher
http://www.austehc.unimelb.edu.au/fam/1603.html