Table of Contents
---
Chapter 8

I Part 1: Communications

II Epilogue

III Part 2: Early Australian Computers And Computing
i Instruments and calculators
ii The transition to the computer, 1945 to 1951
iii The first computers, 1951 to 1956
iv Concentration on large-scale systems, 1958 to 1963
v Software and microelectronics, after 1965
vi Industry, education and the computing fraternity

IV Acknowledgements

References

---
Index
Search
Help
Contact us

Industry, education and the computing fraternity
The speed and high level of penetration of application of computing that has occurred in Australia was aided by three main factors. The first was the assistance given by the main suppliers of systems, the training of their staff in applications programming on their systems, tailoring those applications to suit the customers needs, training in the operations and the provision of vital basic operating system, program compilers and many utility packages of software. These kinds of services were particularly valuable in the commercial applications field, although in the scientific field the customer and the supplier tended to be more sophisticated. In many cases the customer's introduction to the practical advantages of computing methods was through the supplier's service bureau operations. In many instances suppliers would provide some of their experienced staff to work full time with the customer to ensure successful development of his project.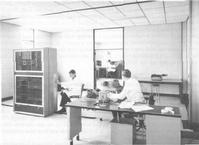 40 Cirrus, a small multi-user, microprogrammed computer, University of Adelaide, South Australia. 1963 (M. W. Allen, T. Pearcey, J. P. Penny, G. A. Rose, J. G. Sanderson).
The second factor aiding the development of applications was the response of the educational system to the pressing need of the industry for technically knowledgeable staff. We have seen that the first computers were associated with the university sector and from these came many who were later to develop very effective Computer Centres and Departments of Computer Science throughout the University, Institutes of Technology and CAE sectors of the educational system. Nevertheless the capacity of these sectors has at no stage been able to satisfy demand completely, although 1200 graduates in computing are produced annually by the system.
The third factor was the natural development of a computing fraternity, with its special expertise, which began, largely at J. M. Bennett's instigation, with the formation of the Australian Committee on Computation and Automatic Control (ANCCAC) for the express purpose of organising national conferences on computing aspects. During the early 1960s, State oriented Computer Societies were independently set up and these came together to form the Australian Computer Society (ACS) early in 1966, with Bennett its first President. The ACS had been the main force for the setting of standards of education, membership and professional conduct. It has been particularly important in providing facilities for professional development of its members and the organisation of conferences. The computing field is now so diverse that special interest groups run their own meetings and conferences, and a number of other related associations expressing different aspects of interest now exist. It is now through the ACS that the fraternity is linked with the International Federation for Information Processing (IFIP), the main international body, although that link commenced through the ANCCAC.
---
Organisations in Australian Science at Work - Australian Committee on Computation and Automatic Control (A.N.C.C.A.C.); Australian Computer Society (A.C.S.)

People in Bright Sparcs - Bennett, J. M



© 1988 Print Edition pages 624 - 625, Online Edition 2000
Published by Australian Science and Technology Heritage Centre, using the Web Academic Resource Publisher
http://www.austehc.unimelb.edu.au/tia/596.html