Table of Contents
---
Chapter 9

I Introduction

II The Australian Chemical Industry
i Beginnings 1865-1919
ii Fertilisers
iii Raw materials from gasworks and coke ovens
iv The beginnings of industrial chemical research - in the sugar industry
v Explosives

III Pharmaceuticals

IV Chemists In Other Industries

V The Dawn Of Modern Chemical Industry - High Pressure Synthesis

VI The Growth Of Synthetic Chemicals - Concentration, Rationalisation And International Links

VII Australian Industrial Chemical Research Laboratories

VIII The Plastics Industry

IX The Paint Industry

X Acknowledgements

References

---
Index
Search
Help
Contact us

Beginnings 1865-1919
The structure of Australia's economy differed from the countries of origin of the processes. Early Australia required chemicals primarily for agriculture and mining. Chemical plants, even early processes such as the LeBlanc and the Solvay process for soda ash, were extremely complex. While plans and operating manuals of sorts existed, technology transfer was often accomplished singlehanded by one man with practical experience and usually little theoretical training.

The first chemical plants were essentially physical plants, or designs, imported from overseas. They merit documentation not as original Australian developments, but as achievements of technology transfer and entrepreneurship. They were surprisingly up-to-date and therefore provided a high level technical springboard for development.

It was no accident that pharmacists and pharmaceutical houses were prominent amongst the pioneers (see pp 21-30). In today's terms pharmaceuticals were high added value low bulk products for which transport costs were relatively unimportant. There was therefore a good supply of the then popular products; they provided the financial basis for the pharmaceutical houses and their later diversification into the chemical and other industries. The records of both the Melbourne[6] and the Sydney[7] Intercolonial Exhibitions mention simple pharmaceuticals as exhibits, but also 'colonial-made ink', mineral acids, superphosphate, soap and 'sulphate of iron mixed with Liverpool salt ... almost a certain cure against liverfluke'. 1866[8] and 1872[9] Sydney papers describe Elliotts' Chemical Works at Iron Cove Balmain, founded in 1865. The origin of the venture from the pharmaceutical business of the brothers Elliott, their association with two other wholesale chemists, Henry and Edward Youngman, and Youngmans' successor in Victoria F. S. Grimwade has been desc ribed by Professor J. R. Poynter.[10] Youngmans' Sydney and Melbourne successors, Elliott Brothers and Felton and Grimwade, in due course developed into four of Australia's leading companies (see pp 652-3). The Elliotts' Chemical Works (Fig. 1) were a typical 19th century chemical complex, producing sulphuric acid, nitric acid, superphosphate based on bone powder and soap.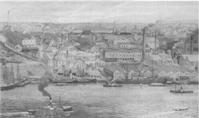 1 Painting of Elliott Bros. Chemical Works, Rozelle, New South Wales.
The first sulphuric acid manufacture in Victoria goes probably back to 1862, when Messrs. Forbes and Co. produced it on the Yarra Bank 'in a very small way'. The enterprise was followed by Clarke and Hoffman, later Smith and Co. and finally Cuming Smith and Co., who round about 1872 built a modern, medium scale mineral acids complex producing concentrated sulphuric acid, nitric and sulphurous acid, ammonium nitrate and phosphatic fertiliser. The acid chambers were sizeable 90 x 20 x 14 feet, compared with the UK plant built shortly before then by Muspratt 120 x 24 x 20 feet. The manager of the establishment, James Cuming, the entrepreneur's son, had received his chemical education in Victoria; the firm received two gold medals at the Melbourne International Exhibition and was 'recommended for the Emperor of Germany's grand prize to the premier industry in the colony'.[11] The Victoria Bone Mills at Yarraville founded 1870 was part of this early complex.[12] Remarkably, 3 000 tonnes of calcium superphosphate were exported to Mauritius and New Zealand. Also at Yarraville were the Victorian Pyrites and Smelting Works and a substantial sugar refinery, the Victorian Sugar Company's Works, and Melbourne Woollen Mills. Nearby, at Footscray, the Apollo Company Works, established in 1873, produced organic chemicals from slaughter yards, glycerine, stearine, oleine and household soap. The company's successor in Sydney, Apollo Stearine Candle Cpy, and another Melbourne soaper,[13] J. Kitchen and Sons eventually, in 1912-14, were absorbed by Lever Bros. Ltd.
---
Organisations in Australian Science at Work - Apollo Company Works, Footscray; Apollo Stearine Candle Cpy; Cuming Smith and Co.; Elliott Bros.; Elliotts' Chemical Works, Iron Cove, Balmain; Forbes and Co., Melbourne; Intercolonial Exhibition of Australia 1866-7; J. Kitchen & Sons Pty Ltd; Lever Bros.Ltd.; Melbourne Woollen Mills; Victoria Bone Mills, Yarraville; Victorian Pyrites and Smelting Works; Youngman, Henry & Edward

People in Bright Sparcs - Cuming, James; Felton, Alfred; Grimwade, F. S.; Poynter, Prof. John S.



© 1988 Print Edition page 634, Online Edition 2000
Published by Australian Science and Technology Heritage Centre, using the Web Academic Resource Publisher
http://www.austehc.unimelb.edu.au/tia/602.html