Table of Contents
---
Chapter 9

I Introduction

II The Australian Chemical Industry

III Pharmaceuticals
i Prosperous pioneers
ii War-time pharmaceutical chemistry
iii Commonwealth Serum Laboratories
iv Post-war pharmaceutical manufacture
v Public sector policies

IV Chemists In Other Industries

V The Dawn Of Modern Chemical Industry - High Pressure Synthesis

VI The Growth Of Synthetic Chemicals - Concentration, Rationalisation And International Links

VII Australian Industrial Chemical Research Laboratories

VIII The Plastics Industry

IX The Paint Industry

X Acknowledgements

References

---
Index
Search
Help
Contact us

Commonwealth Serum Laboratories
Realisation that supplies of vaccines could be cut off during war caused the Government to take an initiative in the national interes -the formation of the Commonwealth Serum Laboratories (CSL).[68][69] Its Government supported, national role for the supply of some life saving drugs and vaccines which had to be available locally, at short notice, in peace-time and war gave this organisation continuity and status which a totally profit-oriented organisation might not have sustained in periods of recession. In 70 years it developed into Australia's largest pharmaceutical enterprise, a fully integrated manufacture in serum fractionation, human and veterinary vaccines, antitoxins, antivenoms, insulin, antibiotics and diagnostics with some 1100 employees, 140 research staff and capital investment close to $250 million.

The first concern about security of supply of lifesaving vaccines for the treatment of diseases such as diphtheria was voiced in 1904 at a Commonwealth quarantine conference.

Smallpox had reached Australia in the 19th century, plague was reported in 1900 and the childhood infectious diseases of diphtheria, whooping cough and measles frequently reached epidemic levels.

In response to a joint initiative in 1915 by the Rev. E. Selwyn Hughes the Melbourne Metropolitan Hospital Board, Dr. J. H. L. Cumpston and the then Minister for Customs, a Federal Serum Institute (later known as the Commonwealth Serum Laboratories) was founded and in 1916 its first Director, Dr. William Penfold (Fig. 14) from the Lister Institute, London was appointed. He started manufacture of vaccine in temporary quarters almost immediately and in 1918 the new laboratory in Parkville was opened. Penfold led the laboratory from 1916 to 1927.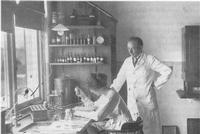 14 Dr. William Penfold at work in his laboratory at CSL.
Early work was associated with the establishment of antisera production for diphtheria, tetanus and gas gangrene, and the continuation of smallpox vaccine manufacture which had been conducted at the Parkville site by the Victorian State Government since the 1870's. Human bacterial vaccines were manufactured by fermentation, mostly for a mixed bacterial vaccine used to counteract the complications of influenza in the Spanish influenza epidemic of 1918-19. Veterinary bacterial vaccine manufacture at CSL was also established around that time. There is, however, evidence that bacterial vaccines were fermented on a small scale in New South Wales before CSL's operation. Certainly, throughout the period of CSL's activities, veterinary vaccines have also been produced in Sydney by Arthur Webster.
The first milestone in transfer of new technology was the establishment of insulin production late in 1922. This work capitalised on the isolation of insulin in 1921 by F. G. Banting and C. H. Best of Toronto University and its large scale manufacture by Connaught Laboratories. To resolve scale-up problems Connaught collaborated with an experienced manufacturer, Eli Lilly and was able to issue the first four licences in the same year. Amongst the licencees including some world leaders in pharmaceutical manufacture such as Hoechst, was CSL. The first experimental batches were made under the supervision of Dr F. G. Morgan in late 1922 and treatment with this insulin was initiated in 1923. Although there was remarkable resistance by the medical profession to insulin in that first year, it became the mainstay treatment and enabled diabetics to lead normal lives. From that early date on CSL has been the sole manufacturer of insulin in Australia (Fig. 15). Technology exchange agreements with companies such as Eli Lilly and Novo Industri A/S ensured that later innovations improving yield, purification and formulation were developed in Australia.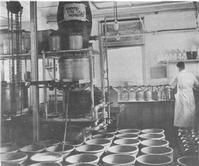 15 Insulin production at CSL in the 1940s.
---
Organisations in Australian Science at Work - Commonwealth Serum Laboratories (C.S.L.); Lilly, Eli; Melbourne Metropolitan Hospital Board; Novo Industries A/S

People in Bright Sparcs - Banting, Sir Frederick Grant; Best, C. H.; Cumpston, Dr J. H. L.; Morgan, Dr F. G.; Selwyn Hughes, Rev. E.; Webster, Arthur



© 1988 Print Edition pages 661 - 662, Online Edition 2000
Published by Australian Science and Technology Heritage Centre, using the Web Academic Resource Publisher
http://www.austehc.unimelb.edu.au/tia/627.html