Table of Contents
---
Chapter 12

I The First Half Century - The Initial Struggle

II The Second Fifty Years - The Start Of Expansion

III The Third Fifty Years - Federation And The First World War

IV The Fourth Period - Second World War To The Present
i General Conditions
ii Iron and Steel Production
iii Aluminium Technology
iv Innovative Copper Refining Process
v The EDIM-4WD Load-Haul-Dump Vehicle
vi Copper Rod Production
vii Copper Wire and Cables
viii The Diecasting Industry
ix Automotive Components
x Whitegoods or Consumer Durables
xi Hardware
xii Some Recent New Industries
xiii The National Measurement System
xiv Manufacturing Industry in this Decade
xv Acknowledgements

References

---
Index
Search
Help
Contact us

Steel sheet and coil products (continued)

By 1970 Lysaght was developing plans for major extensions to the business with the erection of a new strip mill plant on a green-field site at Westernport, Victoria. The first phase, a cold strip plant, was commissioned in 1972 and consisted of a continuous pickle line, five stand tandem cold reduction mill, batch coil annealers and a continuous annealing and galvanizing line. These were followed in 1978 by Australia's second hot strip mill which, as a new Generation III hot strip mill, was the first in the world to use the revolutionary hot coil box for hot coiling the 25 mm thick transfer bar (see Fig 5), before next hot tandem rolling. Know-how relating to the operation of the hot coil box has now been transferred from Lysaght to other steel companies outside Australia. In 1980, Lysaght, at Westernport, installed the first continuous annealing and coating line designed specifically to produce the new coating Zincalume. This line also broke new ground in being relatively compact vertical furnace line which proved to be very cost effective.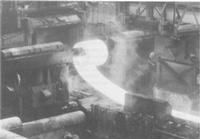 5 A world first was the use of the revolutionary hot coil box as an integral part of the Westernport hot strip mill. (Courtesy: BHP Steel International, Coated Products Division)
Lysaght became a wholly owned subsidiary of BHP in 1979 and is presently BHP Steel International Coated Products Division, which name will now be used.
Coated Products Division (CPD) now operate five hot-dip metal coating lines, three at Port Kembla and two at the newer plant at Westernport. The latest Westernport line was dedicated to production of Zincalume, a new revolutionary coating alloy containing 55 percent aluminium, 44 percent zinc and a little silicon.
Zincalume was invented by Bethlehem Steel Company in USA and Coated Products Division was their first licensee, production starting in Australia in 1976. Zincalume development was a prime example of the value of continuing research and development effort into a new product after the initial production and marketing phases. This R&D enabled CPD to extend the original Galvalume technology of Bethlehem Steel, particularly in areas of control of production processes and improvements in painting technology. This led to joint promotion of Galvalume/Zincalume technology licensing by Bethlehem International Engineering Corporation (BIEC) and BHP CPD. As a result of this, there are currently 20 licensees spread throughout the world, although BHP CPD remains by far the biggest producer. In 1986, this active co-operation of the two groups culminated with the acquisition of BIEC by BHP; the staff and expertise of BIEC have been retained and BHP now has sole rights to all the patented technology and know-how of Galvalume which is the fastest growing metal product in today's world market.
After some years spent studying the tight coil annealing process. Coated Products Division developed a novel computer based model to give optimum annealing conditions which has greatly improved quality and consistency of uncoated steel for the automotive and consumer durable industries. This technology was sold overseas.
---
Organisations in Australian Science at Work - B.H.P.; B.H.P. Steel International. Coated Products Division; Bethlehem International Engineering Corporation (B.I.E.C.); Bethlehem Steel Corporation; John Lysaght (Australia) Ltd; Lysaght's Westernport Works



© 1988 Print Edition pages 886 - 887, Online Edition 2000
Published by Australian Science and Technology Heritage Centre, using the Web Academic Resource Publisher
http://www.austehc.unimelb.edu.au/tia/865.html