Advances in rail technology (continued)

Along with extensive development of rail technology, BHP has introduced fully engineered steel sleeper sections that are proving to be the most economic alternative to timber and concrete. Steel sleepers for railways originated in Europe and most steel sleepers that have been used in the past were based on now outmoded European design. In contrast, BHP sleepers have been newly designed from first principles and provide a considerably improved performance while costing significantly less. The new design provides for a greater depth of rail giving improved track stability while a greater top width reduces rail bearing stresses; a greater base width and internal bearing area give reduced ballast contact pressures.

There are two basic ways of producing steel sleepers. For heavy haul and mainlines, BHP hot roll a shaped trough section which is further processed by outside manufacturers. For secondary and industrial applications, BHP produce a fully-killed hot rolled strip which is later cold formed by recommended manufacturers into the trough shaped sleepers.

A range of fishplates and sleeper plates is available to suit the modern developments together with fasteners, including the unique BHP designed Wilclip fastener. Where rail track circuitry is required, a specially developed insulation pad can be provided which was the result of research and development at BHP Melbourne Research Laboratories. It consists of a one-piece pad of high density polyethylene containing 2.5 per cent carbon black, moulded to exacting tolerances; the surfaces in contact with the rails are roughened to resist rail movement. Legs on the insulation lock onto the steel sleeper (see Fig 6).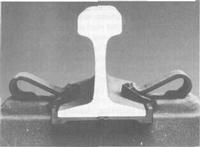 6 Rail and steel sleeper assembly including the Australian designed Wilclip fastening and the BHP patented insulator between rail and sleeper. (Courtesy: BHP Melbourne Research Laboratories)
Production developments have been strongly supported by a continuing long term research and development program at BHP Melbourne Research Laboratories. Recent innovations coming from the Laboratories include a vehicle simulation computer model which has led to the design of special rail and wheel profiles which enhance the bogie tracking characteristics and consequently result in marked reduction in wear of rails and wheels.
More recently emphasis has been placed on the development of models capable of analysing operational variables, such as train length and speed, number of trains, and axle loads, with the object of determining the most cost effective conditions required to satisfy market and maintenance demands.
The Laboratories have also produced computer models of the behaviour of large mine haul-trucks of up to 210 tonne capacity which are commonly used by BHP to shift overburden or ore at mine sites. Cracking of mine haul truck frames had been a costly problem in the past and research was undertaken to determine truck frame stresses under actual working conditions. Attention was given to all factors likely to have some influence, such as the road surface. Cost benefits for this work are in excess of $1 million per year.
---
Organisations in Australian Science at Work - B.H.P. Melbourne Research Laboratories; B.H.P. Steel International. Long Products Division; B.H.P. Steel International. Slab and Plate Division



© 1988 Print Edition pages 888 - 890, Online Edition 2000
Published by Australian Science and Technology Heritage Centre, using the Web Academic Resource Publisher
http://www.austehc.unimelb.edu.au/tia/867.html