Table of Contents
---
Chapter 12

I The First Half Century - The Initial Struggle

II The Second Fifty Years - The Start Of Expansion

III The Third Fifty Years - Federation And The First World War

IV The Fourth Period - Second World War To The Present
i General Conditions
ii Iron and Steel Production
iii Aluminium Technology
iv Innovative Copper Refining Process
v The EDIM-4WD Load-Haul-Dump Vehicle
vi Copper Rod Production
vii Copper Wire and Cables
viii The Diecasting Industry
ix Automotive Components
x Whitegoods or Consumer Durables
xi Hardware
xii Some Recent New Industries
xiii The National Measurement System
xiv Manufacturing Industry in this Decade
xv Acknowledgements

References

---
Index
Search
Help
Contact us

Drums and pails (continued)

In 1973 Rheem became a completely Australian owned company when BHP bought out the overseas interests; in 1986 Rheem also took over the total business of the American company from which it sprang. Although the initial products made were somewhat mundane, Rheem has been a typically innovative company, both in respect to products and its processes, and much effort has gone into improving the technologies practised. Gas water heaters are a good example. Over the years many improvements have been made, for example to burner design, but the Vulcan 'Freeloader' represents a step change in that the heat exchanger principles are quite different from the accepted flue approach. Vulcan Australia Ltd. also developed a method to manufacture acoustic perforated, pre-insulated dueling, which transformed the product from a rectangular formed, sheet metal fabrication process to a continuously produced item. The push towards full electronic control of dishwashers had been led by Vulcan engineers, a division of Rheem.

Water Heater Division staff have developed very cost effective enamelling formulations for cylinder protection, and universal indoor/outdoor gas and electric models -both domestic and commercial -are a Rheem (and Australian) innovation. Understanding the mechanism of cathodic protection allowed a single anode to be developed to combat corrosion for all Australian waters, other than where safety considerations dictate an alternative. AMCRO and nickel-black selective surface coatings for copper solar collectors, developed by CSIRO, were developed to large-scale commercial production by the Water Heater Division. A great deal of development effort has gone into other types of solar collectors, e.g. utilising the condensing tube and evacuated tube concepts, but these have not been commercialised yet.

In the industrial and agricultural fabrics area, Rheem Australia Limited conducted an extensive R&D program to optimise polyolefin tape performance and the requisite materials composition. With their proprietary expertise in extrusion coating high density polyethylene fabrics, this allowed a range of products to be introduced in new market segments. Woven sack manufacture depends on manufacturing expertise in joining fabrics by an extrudate. A patented strip fire retardant/conductive coating material applied to polyolefin fabrics, permitted the replacement of natural fibre brattice cloth, used in coal mines.

In the container area, composite 200 litre drums comprising a steel outer and a blow moulded polyethylene inner liner have been widely used for products ranging from wire to dangerous goods. Protective coatings for steel containers have been an area of continuing activity, and some innovations, e.g. 'Fusioncote' powdered polyethylene linings have come and gone. Recently 'SAFE SEAL' open head technology (see Fig 8) has been developed for steel pails and drums, allowing these, for the first time anywhere, to meet statutory dangerous goods performance requirements. High performance, long-life beer barrels in stainless steel are an important support to the Australian way of life.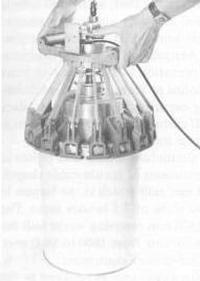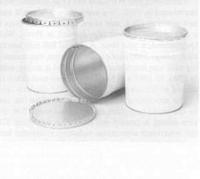 8 The new 'Safe Seal' pail is believed to be the first tin-plate pail in the world to achieve compliance with the stringent international regulations for Transport of Dangerous Goods. (Courtesy: Rheem Australia Ltd.)
---
Organisations in Australian Science at Work - A. Abrahams and Sons Pty Ltd; Comalco Ltd; CSIRO; Rheem Australia Ltd; Vulcan Australia Ltd



© 1988 Print Edition page 894, Online Edition 2000
Published by Australian Science and Technology Heritage Centre, using the Web Academic Resource Publisher
http://www.austehc.unimelb.edu.au/tia/871.html