Table of Contents
---
Glimpse of the RAAF Meteorological Service

Preface

Foreword

Introduction

Chapter 1: Growing Up

Chapter 2: Port Moresby Before Pearl Harbour

Chapter 3: Port Moresby After Pearl Harbour
Work in the Meteorological Office
Japanese Land in Rabaul
Catalina and Hudson Operations
First Sight of the Japanese
Japanese Plans for the Invasion of Port Moresby
RAAF Meteorologists Under Threat of Japanese Advance
More Air Raids on Port Moresby
The Story of the Hudson
A Blow to Morale
More Air Raids but No 75 Squadron Kittykawks Arrive
Japanese Attempt to Invade Port Moresby by Sea
Japanese Submarines Attack Sydney
Attack on MV MacDhui
Return to Australia
The Meteorologists' Contribution

Chapter 4: Allied Air Force HQ and RAAF Command, Brisbane

Chapter 5: Japan Surrenders and We Are Demobilised

Epilogue

Acknowledgements

Appendix 1: References

Appendix 2: Milestones

Appendix 3: Papers Published in Tropical Weather Research Bulletins

Appendix 4: Radiosonde Observations 1941–46


---
Index
Search
Help
Contact us

More Air Raids but No 75 Squadron Kittykawks Arrive
Friday 13 March 1942 saw an attack by six Zeros on airport installations. I believe the scene in Figure 16 shows efforts to quell flames on the Seven-mile airstrip caused by that raid. This may well have been the occasion I clearly remember when two Zeros, having expended their ammunition, staged a mock dogfight at low level over the harbour. This was the 12th raid on Port Moresby.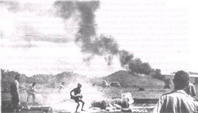 Figure 16 RAAF ground-crew attempt to extinguish fires after air-raid on the Seven-mile airstrip, 1942. (Photograph courtesy of the RAAF)
Saturday 21 March 1942 was a notable day for Port Moresby because it was then that 17 Kittyhawk fighters of No 75 Squadron RAAF arrived. The story of their relatively brief but wonderfully heroic efforts to stem the advancing tide of Japanese forces ranks with that of the troops who fought in the jungles and the RAAF crew of the Hudsons, Catalinas and Short Empire 'C' Class flying boats. The story has been well told by Harry Robinson (1992). We had mistaken the Japanese Zeros as Kittyhawks, on 24 February, so it was understandable that some machine gunners mistook the arriving RAAF Kittyhawks for Zeros and fired on them disabling three, luckily without injury to the pilots.
The story of the operation of No 75 Squadron RAAF as told by Harry Robinson in the Weekend Australian Magazine 25-26 April 1992 points out that Port Moresby was the last outpost in the path of the Japanese in their advance to the Australian mainland. He tells of the receipt of an enciphered message at RAAF HQ Townsville which when deciphered read 'In the event of an invasion, North Queensland can not be held'. No 75 Squadron assembled in Townsville under the command of Sqn Ldr John Jackson and after a brief familiarisation with the new machines, 17 of the aircraft flew from Townsville via Horn Island to Port Moresby, arriving on 21 March. Within an hour of their arrival aircraft of No 75 Squadron were in the air, shooting down a Japanese reconnaissance aircraft. Next day Jackson led a flight of Kittyhawks which made a strafing attack on Zeros and bombers parked on the Lae aerodrome, destroying 10 and damaging five aircraft for the loss of two Kittyhawks. The Japanese retaliated the following day when, on their 17th raid on Port Moresby, 19 bombers protected by four Zeros bombed and strafed Kittyhawks on the Seven-mile airstrip.
---
Gibbs, W. J. 1995 'A Glimpse of the RAAF Meteorological Service', Metarch Papers, No. 7 March 1995, Bureau of Meteorology

© Online Edition Australian Science and Technology Heritage Centre and Bureau of Meteorology 2001
Published by Australian Science and Technology Heritage Centre, using the Web Academic Resource Publisher
http://www.austehc.unimelb.edu.au/fam/0433.html