Table of Contents
---
Chapter 13

I Colonial Origins

II First World War

III Between The World Wars

IV The Second World War
i Optical Munitions
ii Aircraft
iii Armour
iv Radar
v Tropic Proofing

V Post-second World War

VI After The Joint Project

VII Science And Decisions At The Top

VIII Armed Services Technology

IX New Tasks And Projects

X Transfer Of Research And Development

XI Acknowledgement

References

---
Index
Search
Help
Contact us

Aircraft
Japan's entry into the war isolated Australia temporarily from sources of military supplies. The threat forced Australia to attempt the design and production of a stop-gap fighter aircraft.[23] With only small experience in the development of a light trainer at CAC, that company set about producing the Boomerang, using as many parts of the Wirraway as possible and introducing the Pratt & Whitney R1830 radial engine then entering production in Sydney. The wind tunnel at Division of Aeronautics CSIR, only just commissioned, was pressed into service. The Boomerang, later fitted with a turbo-charger, performed quite creditably. While it was not employed in direct combat, it was used in New Guinea for patrol and reconnaissance.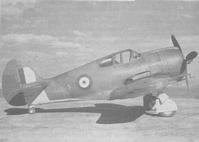 3 CAC Boomerang
An original design of bomber came from L. J. Wackett. Conceived originally in 1940, a prototype CA-4 was completed in 1941 and test flown by the RAAF. Under threat of invasion, another prototype was armed with a 40 mm Bofors gun intended for anti-tank use. A remotely controlled machine gun was located in the tail of the aircraft. The crisis passed before further significant progress could be made and the project was abandoned in 1944.
The Australian aircraft industry which was also producing British Beaufort and Beaufighter aircraft (with local modifications) at the Government Aircraft Factory and Mosquito aircraft at de Havilland's was continually beset by materials problems.[24] Aluminium alloys were always in short supply and timber was investigated as an alternative for some structural components. The CSIR Divisions of Aeronautics and of Forest Products found that Victorian mountain-ash and Queensland hoop-pine were acceptable for primary structures, whilst coachwood was a suitable substitute for imported birch plywood. A technique of bonding laminated plywoods were developed for the Mosquito, special shapes were produced for auxiliary fuel tanks, and a technique of producing wholly glued plywood joints from local materials was perfected.
Excessive cylinder liner wear was experienced in the first batch of nitride chrome-molybdenum barrels produced locally; on examination it was discovered that defective flow past the piston rings was a prime cause. Shortage of material led to a chrome plating technique of barrel reclamation being developed in Government laboratories. Another serious factor was the excessive cylinder wear experienced by ingestion of dust from Australian forward airfields; to deal with this air filtration systems were developed by the CSIR.
Confidence in solving engine problems led to a purely local development of the R1830 Twin Wasp to gain additional power; larger cylinders were fitted to give 2000 cubic inch capacity. The engine successfully passed its official type test in 1943.
---
Organisations in Australian Science at Work - CSIRO Division of Aeronautics; CSIRO Division of Forest Products; de Havilland Australia; Government Aircraft Factories

People in Bright Sparcs - Wackett, L. J.



© 1988 Print Edition pages 931 - 933, Online Edition 2000
Published by Australian Science and Technology Heritage Centre, using the Web Academic Resource Publisher
http://www.austehc.unimelb.edu.au/tia/912.html