Table of Contents
---
Chapter 13

I Colonial Origins

II First World War

III Between The World Wars

IV The Second World War
i Optical Munitions
ii Aircraft
iii Armour
iv Radar
v Tropic Proofing

V Post-second World War

VI After The Joint Project

VII Science And Decisions At The Top

VIII Armed Services Technology

IX New Tasks And Projects

X Transfer Of Research And Development

XI Acknowledgement

References

---
Index
Search
Help
Contact us

Tropic Proofing
As Australian forces moved in Papua New Guinea to oppose the Japanese advance towards Port Moresby, they encountered operational problems different from those of the temperate and hot-dry theatres of war for which their equipment had been designed. The combination of temperature and humidity was not only unhealthy and a threat to morale, it was also the cause of rapid deterioration of stores of all kinds. Textiles, including those used for tenting and garnishing, boots and equipment were attacked by mould and fungi. Electrical equipment suffered breakdown because of corrosion and ingress of moisture, as well as deterioration of the insulating materials then in use. The dry cells of portable communications equipment had effectively zero life due to leakage across the damp-containing cardboard. Even optical equipment such as gun sights and binoculars was degraded by fungal etching of the glass.

Reports from the field led to several investigative missions from the Army[28] and the formation of a Scientific Liaison Bureau to mobilise appropriate scientific and technical resources.[29] Pending new equipment from the mainland, new techniques of storage involving free circulation of air, and new techniques of use were adopted.

At the production end, packaging was re-thought, metals treated with anti-corrodents, electrical equipment was treated, and fabrics treated with fungicides. The main organisms responsible were identified and fungicides non-toxic to humans were developed. Every ingredient used in equipment manufacture had to be scrutinised -even the nails in boots had to be coated to avoid chemical interaction with the treated leather.

In a sense, all these treatments were stop-gap measures; they continued to be used, of course, but a more effective approach was to develop the technology of complete sealing of critical assemblies and electrical circuits to exclude moisture. This applied particularly to dry batteries, where metal casings and bituminous fillings cardboard packs and some plastics had been found to be ineffective.

The difficult operating environment of Papua New Guinea inspired several novel equipment developments. The term 'Walkie-talkie' entered the English language through the original truly portable manpack radio for use in jungle conditions. This followed a number of Lightweight Australian adaptations of British units.

To facilitate airborne operations, parachute store-dropping systems were developed. The basic 25 pounder gun was re-designed to shed 800 pounds in weight by shortening the barrel and recoil mechanism and making it able to be disassembled into eight different manageable packages. It was the first gun to be dropped by parachute in military operations.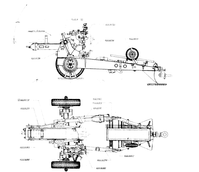 6 & 7 25 pounder gun (Short) and Owen gun
Private E. E. Owen, a motor mechanic, the Australian inventor of the Owen gun, claimed its superior performance in confined jungle operations. The Army was not impressed, preferring the Austen gun, a lightweight Australian development of the British Sten. The Defence Minister, Percy Spender, insisted that the Owen gun be developed and prototype weapons produced by Lysaghts performed well against its competitors. It arrived on the scene too late, however, to acquire a reputation. For a period of two years Australian industrial development received an enormous boost under the challenge of national self-reliance. The experience of collaboration of all branches of science engineering and business management was most salutary to national awareness. Unfortunately, in the greater scheme of things, the resources of a small nation could not be expected to match the productive capacity of a very large nation -America -and, inevitably, promising material developments had to be abandoned in the face of logistic considerations.
---
Organisations in Australian Science at Work - Scientific Liaison Bureau

People in Bright Sparcs - Owen, Evo E.



© 1988 Print Edition pages 934 - 936, Online Edition 2000
Published by Australian Science and Technology Heritage Centre, using the Web Academic Resource Publisher
http://www.austehc.unimelb.edu.au/tia/915.html