Table of Contents
---
Chapter 13

I Colonial Origins

II First World War

III Between The World Wars

IV The Second World War

V Post-second World War
i The United Kingdom Australia Agreement
ii The ADSS
iii Decline of Imported Work
iv Background Research and Development of the Department of Supply
v Technology in the Armed Services

VI After The Joint Project

VII Science And Decisions At The Top

VIII Armed Services Technology

IX New Tasks And Projects

X Transfer Of Research And Development

XI Acknowledgement

References

---
Index
Search
Help
Contact us

The ADSS
In 1949 Dr Butement, who had been head of the Long Range Weapons Establishment, became responsible for the technical direction as Chief Scientist of the new Australian Defence Scientific Service (ADSS). Initially, it consisted of the Long Range Weapons Establishment (LRWE) later known as the Weapons Research Establishment (WRE) at Woomera and Salisbury, and the Munitions Supply Laboratories (MSL), later to become Defence Standards Laboratories, and then Material Research Laboratories (MRL) at Maribyrnong. Shortly after, the Executive of CSIR decided to discontinue defence work and the Aeronautical Research Laboratories were transferred to the ADSS.*

* This resulted from an Act of Parliament of December 1948. The CSIR was re-constituted and became the Commonwealth Scientific and Industrial Research Organisation (CSIRO) under the Science and Industry Act 1949.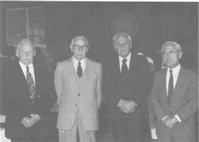 9 Four Chief Defence Scientists. Left to right: H.A. Wills (1967-71), Dr W. A. S. Butement (Department of Supply 1949-66), Dr J. L. Farrands (1971-77), Professor P. T. Fink (1978-86).
Under Butement, strongly supported by Sir John Knott, the permanent head of the Department of Supply, a powerful organisation of great creativity was forged. An initial step of lasting importance was the build-up of quality staff by the training overseas of several hundred Australian graduates. Many British scientists and engineers were also recruited. After this initial period some 600 professionals in a total of 4000 staff were available for the work. In later years the total was to go even higher.
Provision of the facilities at Woomera and down range demanded the establishment in the Salisbury complex of laboratories skilled in electronics, aerodynamics, optics, propellant chemistry, radar, telemetry and data processing. Powerful computing facilities were introduced. Important contributions to the computer simulation of weapon behaviour were made in advance of many countries overseas. An Engineering Wing was established for the study of advanced design and manufacture of weapons and instruments.
Many British weapons were tested, some with an Australian contribution to the design; some civil vehicles for upper atmosphere research were launched for the United States, Britain, and Australian universities. Butement, however, was looking for opportunities for wholly Australian designed and tested systems. The first of these are described later under Malkara and Ikara.
Data Processing and Computing

Trials at Woomera generated a need for the collection and processing of data on a scale not previously experienced. The satisfaction of that need was to have important consequences for information processing, not only in defence, but also in many other Australian activities. The earliest experiments had been un-instrumented trials on parachutes at high altitude, with manual plotting and recording of aircraft position by ground cameras. These were calibrated annually against the images of stars. Data reduction was done by 'computers' -i.e. young women -with pencil and paper. As the trials increased in number and complexity, so did the data problem. An initial staff of one scientific officer and three 'computers' became by 1950, a staff of 22, with 33 more (30 of them 'computers') in the pipeline.
---
Organisations in Australian Science at Work - Aeronautical Research Laboratories; Australian Defence Scientific Service (A.D.S.S.); CSIRO Aeronautical Research Laboratories; Defence Standards Laboratories; Long Range Weapons Establishment (L.R.W.E.); Munitions Supply Laboratories (M.S.L.); Weapons Research Establishment (W.R.E.)

People in Bright Sparcs - Butement, Dr W. A. S.; Farrands, Dr J. L.; Fink, Prof. P. T; Knott, Sir John



© 1988 Print Edition pages 938 - 939, Online Edition 2000
Published by Australian Science and Technology Heritage Centre, using the Web Academic Resource Publisher
http://www.austehc.unimelb.edu.au/tia/919.html