Table of Contents
---
Early Years in the Bureau

Introduction

My Early Years in the Bureau of Meteorology

The Formation of the Frosterley Club

Attachment A

Attachment B

Attachment C

Attachment D

Attachment E

Attachment F

Attachment G

Attachment H

Attachment I


---
Index
Search
Help
Contact us

Attachment I

14 January 1977

Dear Member,

The next luncheon of the Frosterley Club will be held at 12.30 on the first floor of the Continental Hotel, Cnr. Russell and Lonsdale Sts., on Thursday 27 January 1977. (Russell St entrance).
As some members of the Committee will be retiring on or before the end of this financial year, there will be a brief discussion on office bearers for the coming year. Would you please advise the Acting Secretary, Aub Douglass (669 4570) if you are able to attend.

You are also advised that the Frosterley Club and the Bureau Social Club will combine in a farewell function for two of the retiring Bureau officers on Thursday, 3 February, at 17:30 in the Bureau Cafeteria, 5th Floor, 150 Lonsdale Street. The officers involved are—Allen Bath and Brian Purcell.

A separate circular is enclosed with regard to the latter function, from the Social Club.
It is anticipated that the following Frosterley function will be on 24 February, probably at the Carlton Bowling Club, and then on 31 March. You will be further advised.

Yours faithfully,

(AUB DOUGLASS)
Acting Secretary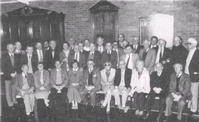 Frosterley members and guests at the 10th Anniversary luncheon of the Frosterley Club at the Carlton Bowling Club, 26th October 1986. (standing l-r): Henry Phillpot, Trevor Farrar, David King, Alan Bath, Mike Rosel, Bill Gibbs, Vera Phillpot, Reg Clark, Steve Lloyd, Col Pierrehumbert, John McDermott, John Lillywhite, Bill Bell, Arthur Douglas, Neville Morris, Keith Henderson, Harry Ashton, Bob Crowder, Andy Garriock, Tom Hall, Ken Hall, Harry Alderdice, Eric Endacott and Alec Sharp. (sitting l-r): Bill Golder, Beryl Gray, Syd Cleland, Barbara Daniel, Don Hancock, Dagmar Henderson, Gwyn Wilson, Zora Marceglia, Kevin Lomas and Bernie McCormack.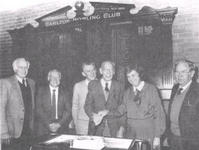 Cutting the cake at the 10th Anniversary luncheon. (l-r): Tom Hall (Vice president), Steve Lloyd (President), David King (Secretary), Bill Golder (86, oldest member present), Barbara Lee (nee Daniel) and John Lillywhite.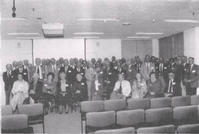 50th Anniversary reunion of member of the RAAF Meteorological Service, held at the Bureau's Head Office, 17 April 1991.
---
Organisations in Australian Science at Work - Frosterley Club

People in Bright Sparcs - Bath, Allen Tristram


Lillywhite, J. 1992 'My Early Years in the Bureau of Meteorology: The Formation of the Frosterley Club', Metarch Papers, No. 4 February 1992, Bureau of Meteorology

© Online Edition Australian Science and Technology Heritage Centre and Bureau of Meteorology 2001
Published by Australian Science and Technology Heritage Centre, using the Web Academic Resource Publisher
http://www.austehc.unimelb.edu.au/fam/0202.html