Table of Contents
---
War History of the Australian Meteorological Service

Foreword

Preface

Introduction

Chapter 1: D.Met.S.—Australia's Wartime Weather Service
Establishment of D.Met.S. War Communication System
New Stations and Services
Censorship and Codes
RAAF Appointments
Organisational Conferences
Pacific Island Weather Stations
Services to the War Room
The Allied Air Meteorological Service
Training of US Personnel
Perth-Colombo Air-route
Wide Pacific Expansion
Closing Years of the War

Chapter 2: The Weather Factor in Warfare

Chapter 3: Met in the Retreat

Chapter 4: Met in the Advance

Chapter 5: Meteorology in Aviation

Chapter 6: Central Forecasting Services

Chapter 7: Met With the Army

Chapter 8: Research and Personnel Training

Chapter 9: Instrumental Development and Maintenance

Chapter 10: Scientific Developments in the RAAF Meteorological Service

Chapter 11: Divisional Bureaux and Their Work

Appendix 1: List of Reports Provided by D.Met.S. for Advances Operational Planning and Other Purposes

Appendix 2: List of Service Personnel RAAF Meteorological Service

Appendix 3: List of Civilian Personnel Who Worked Together with Service Personnel of the RAAF Meteorological Service

Appendix 4: List of Locations at which RAAF Meteorological Service Personnel Served


---
Index
Search
Help
Contact us

Training of US Personnel
Incoming American meteorological personnel were temporarily attached to many existing RAAF weather stations throughout Australia in order to give them experience of local conditions and procedures. New Allied meteorological sections were established at new airfields rapidly becoming available to serve the needs of large numbers of American operational and transport aircraft reaching the theatre. For the most part these new aerodromes were situated in the far north of Australia, although development also took place in New South Wales and Victoria. These developments called for increasing numbers of RAAF forecasting officers and observers in addition to which the necessity for enciphering all weather data for security purposes had brought into being a new mustering of meteorological charter. Training of additional personnel in Melbourne was continuous and instructional facilities were strained to the utmost to keep the supply of men flowing. Training courses for forecasters, observers and charters were conducted simultaneously—sometimes two coincidental courses for the same mustering—while officers of the Directorate also were called upon to induct American weather men in Australian and tropical meteorology and procedures of the South-West Pacific region.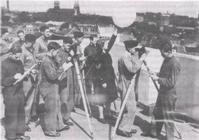 Meteorological training being conducted on the Headquarters roof
Differences of approach and training in weather science between Australians and Americans naturally gave rise to many problems, but mutual goodwill did much to solve them. Steps also were taken to coordinate aviation forecasting practice for the two services and to standardize the performance of routine duties of RAAF and USAAF meteorological stations. Both Australian and American weather men benefited from the close association, which continued until the end of 1942, when the US Air Force was reorganised as a separate command and the Allied Meteorological Service was reorganised into Australian and US components. In place of the Allied Directorate, a coordinating committee was appointed at GHQ by General MacArthur, with Group Captain Warren as chairman, to coordinate services within the South-West Pacific area, and, later to secure coordination throughout the Pacific and South-East Asian theatres.
By 1943 the increasing tempo of Pacific offensive air operations was making heavy demands on the trained personnel available to the Directorate. In the north pools, or groups, of meteorological personnel and equipment were established at the area meteorological headquarters at Townsville so that men and materials would be readily available for establishment of new weather sections as the campaign advanced. In January 1943 plans were completed to establish a RAAF meteorological section at Milne Bay to provide a weather service for the Australian squadrons based in that area. Like the Port Moresby weather station, this office was used to give experience in local meteorological conditions and practices to incoming personnel so that relatively experienced men were available to staff the advanced operational bases that sprang up in the van of the Australian and American squadrons moving onwards. First of these was on Goodenough Island, where operations commenced early in June 1943. In August the network was extended to include a meteorological station at Kiriwina Island in the Trobriand group and from that time onward new island stations followed fast.
Steps had been taken in April 1943 to establish a group meteorological office for the Ninth Operational Group, which then controlled all sections in New Guinea. Functions of this position were defined by the Director of Meteorological Services on similar lines to those of the area meteorological officer at the North-Eastern Area headquarters, and the first occupant was Fl Lt (later Sqn Ldr) J. L. Williams, then officer in charge of the Port Moresby meteorological station. Fl Lt Williams held the position in a temporary capacity until the end of May when Sqn Ldr J. N. McRae arrived in New Guinea to take over, subsequently moving with group headquarters to Milne Bay and finally to Goodenough Island, where 9OG became established just before the close of the year.
An area meteorological officer, in Sqn Ldr Mackey—incidentally a member of the Australian weather party which had been posted to Malaya at the outset of the war with Japan—was already established at headquarters of the North-Western Area in Darwin, and action was taken in November 1943 to create a similar office in Western Area, where Sqn Ldr H. E. Banfield had his headquarters at Perth.
Close coordination and standardisation of meteorological services to Allied armed forces in the South-West Pacific area was of great and increasing importance at this stage and was furthered by the work of General Headquarters Committee K (Meteorological), which made many recommendations to the Combined Meteorological Committee (Washington) for final decision through the Commander in Chief. In April, Sqn Ldr W. A. Dwyer, D.Met.S. aviation superintendent, left Australia for Canada and the United States to represent the RAAF on the Combined Meteorological Committee (Washington) and to report upon weather services and development in the two countries. His primary purpose was to achieve coordination and standardisation of weather codes and procedures throughout the South-West Pacific, to which end he placed a considerable number of proposals before the committee. Amongst those approved, either wholly or in part, were the WAP-2 system of aircraft weather codes, a code cipher (UCO) system for communication of ground weather reports to aircraft, and the standardisation of pro formae for presentation of air-route forecasts. The committee also approved a proposal by Sqn Ldr Dwyer for a conference to coordinate weather services between the South-West Pacific and South-East Asia commands.
---
Organisations in Australian Science at Work - Directorate of Meteorological Services (D.Met.S)

People in Bright Sparcs - Banfield, Henry Evans; Dwyer, Walter Anthony; Mackey, George William; McRae, John Neil; Warren, Herbert Norman


Haldane, T. 1997 'War History of the Australian Meteorological Service in the Royal Australian Air Force April 1941 to July 1946', Metarch Papers, No. 10 October 1997, Bureau of Meteorology

© Online Edition Australian Science and Technology Heritage Centre and Bureau of Meteorology 2001
Published by Australian Science and Technology Heritage Centre, using the Web Academic Resource Publisher
http://www.austehc.unimelb.edu.au/fam/0632.html