Table of Contents
---
War History of the Australian Meteorological Service

Foreword

Preface

Introduction

Chapter 1: D.Met.S.—Australia's Wartime Weather Service
Establishment of D.Met.S. War Communication System
New Stations and Services
Censorship and Codes
RAAF Appointments
Organisational Conferences
Pacific Island Weather Stations
Services to the War Room
The Allied Air Meteorological Service
Training of US Personnel
Perth-Colombo Air-route
Wide Pacific Expansion
Closing Years of the War

Chapter 2: The Weather Factor in Warfare

Chapter 3: Met in the Retreat

Chapter 4: Met in the Advance

Chapter 5: Meteorology in Aviation

Chapter 6: Central Forecasting Services

Chapter 7: Met With the Army

Chapter 8: Research and Personnel Training

Chapter 9: Instrumental Development and Maintenance

Chapter 10: Scientific Developments in the RAAF Meteorological Service

Chapter 11: Divisional Bureaux and Their Work

Appendix 1: List of Reports Provided by D.Met.S. for Advances Operational Planning and Other Purposes

Appendix 2: List of Service Personnel RAAF Meteorological Service

Appendix 3: List of Civilian Personnel Who Worked Together with Service Personnel of the RAAF Meteorological Service

Appendix 4: List of Locations at which RAAF Meteorological Service Personnel Served


---
Index
Search
Help
Contact us

Closing Years of the War
The year 1944 brought continued expansion of the meteorological organisation both inside and outside Australia. Within the country, particularly in the north-east and north-west, weather sections attached to operational and training aerodromes were working to capacity, while in the Pacific area the advance of the offensive to the Philippine Islands, with the consequent movement there of American meteorological personnel, brought a large increase in the responsibilities of the Australian weather units. American air transport lines of supply still operated through New Guinea and the intensity of RAAF tactical operations towards the Celebes and Borneo was increasing rapidly, with consequent augmented requirements for meteorological service. The Ninth Operational Group, which initially had controlled all weather sections in the New Guinea area had been followed by the formation of the 10OG (a title later changed to First Tactical Air Force RAAF), and Northern Command, as the Australian air forces moved farther into enemy territory.

Operational coordination and uniformity throughout the Pacific and South-West Pacific areas gained as a result of conferences at Auckland and Brisbane in late 1942 and early 1943, when representatives of the US Air Forces and Navy throughout the Pacific and of the Royal New Zealand Air Force attended with Group Captain Warren as chairman, were adapted to changing needs at conferences in Sydney (1944) and Manila (1945).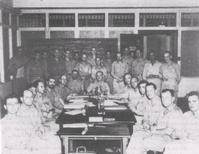 International meteorological conference, Manila, 1945. From left to right, seated, are Commander F. T. Thompson (USN), Captain H. T. Orville (USN), Colonel D. N. Yates (US Army), Wing Commander M. F. Barnett (RNZAF), Commander S. W. O. Pack (RN), Group Captain W. H. Bigg (RAF), Squadron Leader W. A. Dwyer (RAAF), Group Captain H. N. Warren (RAAF) (Chairman), Colonel W. O. Senter (US Army), Captain P. R. Drouilhet (USN), Captain A. L. Danis (USN), Colonel W. A. Stone (US Army), Major A. F. Spilhaus (US Army) and Captain K. S. Van Dyke (US Army); standing include Lieutenant-Commander L. M. S. Hargrave (RAN), Major H. N. Caldwell (US Army), Wing Commander J. P. Lees (RAAF), Captain B. F. Smith (US Army), Major A. N. Gordon (US Army), Commander L. Govett (RN), Captain W. Troutman (US Army), CWO H. J. Cuskey (US Army), Major R. J. Shafer (US Army) and Captain F. A. Berry (USN)
Weather strategy proved its worth in the Pacific as in all other theatres of war. Meteorological officers in each area provided complete pictures of the weather factor for the planning of each campaign—a task often involving long range forecasting at field posts. At the headquarters of the Directorate reports came in at regular intervals from stations scattered over more than 15 million square miles and from this information maps were drawn to show pressure patterns and air movements, after which the analysed total map was sent out to all main weather units in coded form. Field stations also prepared their own local weather maps so that complete data was available for the met men to play their part in operational planning. At General Headquarters of the South-West Pacific area the meteorological unit sent an officer each day to the conference in the operations room, where the weather man, delivering his summary of prevailing conditions and often suggesting changes likely to affect current movements, was frequently faced with a barrage of questions from the Naval, Army and Air Force commanders. When it was considered that the weather would be unfavourable to a certain project, the meteorologist was required to give a further opinion as to when the strike would be possible.
Indicative of the problem these weather men continually faced was the position at Rabaul, that when enemy concentration there assumed such proportions, speedy Allied action became necessary. Heavy losses could not be afforded, since the air commander had every available squadron on the job, and at the same time there was good cause to fear the weather, for it was the north-west season of 1942–43. After close consultation between the Australian and American meteorologists at headquarters, the commander was advised of a time when conditions would be favourable, and the strike proceeded with outstanding success.
---
Organisations in Australian Science at Work - Directorate of Meteorological Services (D.Met.S)

People in Bright Sparcs - Warren, Herbert Norman


Haldane, T. 1997 'War History of the Australian Meteorological Service in the Royal Australian Air Force April 1941 to July 1946', Metarch Papers, No. 10 October 1997, Bureau of Meteorology

© Online Edition Australian Science and Technology Heritage Centre and Bureau of Meteorology 2001
Published by Australian Science and Technology Heritage Centre, using the Web Academic Resource Publisher
http://www.austehc.unimelb.edu.au/fam/0634.html