Table of Contents
---
War History of the Australian Meteorological Service

Foreword

Preface

Introduction

Chapter 1: D.Met.S.—Australia's Wartime Weather Service
Establishment of D.Met.S. War Communication System
New Stations and Services
Censorship and Codes
RAAF Appointments
Organisational Conferences
Pacific Island Weather Stations
Services to the War Room
The Allied Air Meteorological Service
Training of US Personnel
Perth-Colombo Air-route
Wide Pacific Expansion
Closing Years of the War

Chapter 2: The Weather Factor in Warfare

Chapter 3: Met in the Retreat

Chapter 4: Met in the Advance

Chapter 5: Meteorology in Aviation

Chapter 6: Central Forecasting Services

Chapter 7: Met With the Army

Chapter 8: Research and Personnel Training

Chapter 9: Instrumental Development and Maintenance

Chapter 10: Scientific Developments in the RAAF Meteorological Service

Chapter 11: Divisional Bureaux and Their Work

Appendix 1: List of Reports Provided by D.Met.S. for Advances Operational Planning and Other Purposes

Appendix 2: List of Service Personnel RAAF Meteorological Service

Appendix 3: List of Civilian Personnel Who Worked Together with Service Personnel of the RAAF Meteorological Service

Appendix 4: List of Locations at which RAAF Meteorological Service Personnel Served


---
Index
Search
Help
Contact us

RAAF Appointments
In April 1941 personnel of the meteorological organisation who had volunteered for service with the RAAF, and who were medically fit, were enlisted for service in the new organisation. Mr H. N. Warren who, since May 1940 had been discharging the duties of Director of the civil organisation, was appointed as a Director of RAAF Headquarters Staff with the rank of group captain in charge of the RAAF Meteorological Service. Other officers were accorded ranks in accordance with establishment tables which had been drawn up by the Director and Air Members for Personnel and approved by the Air Board and Minister for Air.
Organisational Conferences
At this time, there were differences of language, of codes and of coding methods in the meteorological services of the countries of the South-West Pacific and South-East Asia regions. The needs of possible war in the Pacific made it essential that uniformity be secured between probable allies.

D.Met.S., after investigation, reported the problem to the then Chief of Air Staff (Sir Charles Barnett). Corrective action was promptly taken and, on 17 June 1941, Group Captain Warren represented Australia at a combined communications and meteorological conference at Batavia, NEI, attended also by service representatives of Great Britain, New Zealand, United States of America, Federated Malay States and NEI, to determine a uniform series of meteorological codes and ciphers for introduction by Allied services in the event of the Pacific becoming an active theatre of war. These codes and ciphers, which became known as the ANDUS system covered a triple purpose. They enabled uniform services for Allied Naval, Army and Air Forces by all meteorological services of the area without regard to nationality or language. Preparation for the system was delegated to the Australian meteorological service. Sqn Ldr (later Wing Commander) H. E. Camm, then officer in charge of the forecasting section at headquarters of the Directorate of Meteorological Services in Melbourne, was given the actual task of producing the cipher tables, which were given the short titles of ANDUSYN and ANDUSMET. Sqn Ldr Camm worked in association with the Australian Navy Office and the RAAF Director of Signals in their production. The ANDUS cipher systems were accepted by all Allied authorities in the region and went into operation throughout the region on 15 November 1941.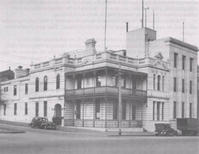 'Frosterley' (No 2 Drummond Street, Carlton, Victoria), Headquarters of the RAAF Meteorological Service, and of the Bureau of Meteorology from 1908 until 1974, pictured here during World War II
Design of a local COMETSYN code, an Australian internal weather ciphering medium, had meanwhile permitted resumption of the regional meteorological broadcasts.
---
Organisations in Australian Science at Work - Directorate of Meteorological Services (D.Met.S)

People in Bright Sparcs - Warren, Herbert Norman


Haldane, T. 1997 'War History of the Australian Meteorological Service in the Royal Australian Air Force April 1941 to July 1946', Metarch Papers, No. 10 October 1997, Bureau of Meteorology

© Online Edition Australian Science and Technology Heritage Centre and Bureau of Meteorology 2001
Published by Australian Science and Technology Heritage Centre, using the Web Academic Resource Publisher
http://www.austehc.unimelb.edu.au/fam/0629.html