Table of Contents
---
Memories of the Bureau, 1946 to 1962

Foreword

Terminology

Prologue

Preface

Chapter 1: The Warren Years, 1946 to 1950

Chapter 2: International Meteorology
Meetings of the IMO Technical Commissions in Toronto
The IMO Conference of Directors, Washington DC
The US Weather Bureau
Meeting of IMO Regional Association for the South-west Pacific
Meetings of the IMO International Meteorological Committee

Chapter 3: The Timcke Years, 1950 to 1955

Chapter 4: A Year at the Massachusetts Institute of Technology

Chapter 5: The Dwyer Years, 1955 to 1962

Chapter 6: A Springboard for the Future

Appendix 1: References

Appendix 2: Reports, Papers, Manuscripts

Appendix 3: Milestones

Appendix 4: Acknowledgements

Appendix 5: Summary by H. N. Warren of the Operation of the Meteorological Section of Allied Air Headquarters, Brisbane, 1942–45

Endnotes

---
Index
Search
Help
Contact us

The IMO Conference of Directors, Washington DC (continued)
A photograph of the meeting room of the Conference of Directors (US State Department, 1948) shows the flags of about 40 nations displayed along a wall but the official record, Davies (1990), indicates that the representatives of only 31 countries signed the Convention.

The official visual record of the Conference of Directors includes photographs of 44 individuals signing the Convention but in some cases more than one individual from the same country was a signatory, and in others the signatory was from a colonial dependency which did not have full status under the Convention

It is interesting to note that of the 44 individuals who signed the Conventione from meteorological services in Europe, seven from North and Central America, eight from Asia and the Middle East, six from South America, three from Africa and three from the South-west Pacific, Warren, Barnett (NZ) and del Rosario (Philippines).

The important outcome was that agreement had been obtained to the wording of the Convention. There had been four alternative proposals, from Canada, UK, France and the US, to the wording which had been agreed at the meeting of the IMC in France in mid-1946 after considering the original proposed in 1939 by Hesselberg.

During discussion of these proposals H. N. Warren was asked to chair a committee (which included Hesselberg, Sir Nelson Johnson and Reichelderfer) which produced the version which was finally found acceptable. It was significant that Warren was asked to join Sir Nelson Johnson in a photograph showing Reichelderfer signing the Convention.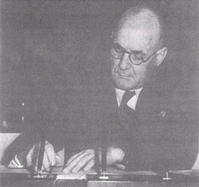 Figure 19 H. N. Warren signs newly drafted Convention of the World Meteorological Organization (WMO) on behalf of Australia.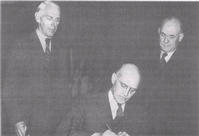 Figure 20 Reichelderfer signs Convention of WMO on behalf of USA watched by the President of IMO, Sir Nelson Johnson (UK) and H. N. Warren.
It is a tribute to the practical commonsense of Warren that he was able to persuade Hesselberg, Johnson and Reichelderfer to agree to a final version. Although not a qualified meteorologist Warren had obviously impressed the other delegates at the meetings in Toronto and Washington. They obviously had great confidence in his judgement and integrity.
In addition to the sessions concerned with the Convention there were 400 resolutions of the Technical Commissions and the Regional Associations to consider. These discussions were somewhat boring as we had already been involved in the deliberations at Toronto and the three weeks available in Washington permitted only a cursory examination of these matters.
There is much more to tell of the transition from IMO to WMO but this must wait for a while.
---
People in Bright Sparcs - Warren, Herbert Norman


Gibbs, W. J. 1999 'A Very Special Family: Memories of the Bureau of Meteorology 1946 to 1962', Metarch Papers, No. 13 May 1999, Bureau of Meteorology

© Online Edition Australian Science and Technology Heritage Centre and Bureau of Meteorology 2001
Published by Australian Science and Technology Heritage Centre, using the Web Academic Resource Publisher
http://www.austehc.unimelb.edu.au/fam/0954.html