Table of Contents
---
Memories of the Bureau, 1946 to 1962

Foreword

Terminology

Prologue

Preface

Chapter 1: The Warren Years, 1946 to 1950

Chapter 2: International Meteorology

Chapter 3: The Timcke Years, 1950 to 1955
A Period of Consolidation
Aviation Services
Services for the General Public
Rockets and Atomic Weapons
Instruments and Observations
Climate and Statistics
International Activities
Training
Publications
Research
Central Analysis and Development
CSIRO
The Universities
The Meteorology Act
Achievements of the Timcke Years

Chapter 4: A Year at the Massachusetts Institute of Technology

Chapter 5: The Dwyer Years, 1955 to 1962

Chapter 6: A Springboard for the Future

Appendix 1: References

Appendix 2: Reports, Papers, Manuscripts

Appendix 3: Milestones

Appendix 4: Acknowledgements

Appendix 5: Summary by H. N. Warren of the Operation of the Meteorological Section of Allied Air Headquarters, Brisbane, 1942–45

Endnotes

---
Index
Search
Help
Contact us

International Activities
Following Warren's death PSB and Treasury restrictions on overseas travel resulted in some reduction in the Bureau's involvement in international activities. Nevertheless Timcke represented Australia at the last meeting of the IMO Conference of Directors in Paris in March 1951 and at the first meeting of the first Congress of WMO which started on the 19th of that month. In his closing address to the Conference of Directors the President, Sir Nelson Johnson, said "thus came to an end one of the pioneer organizations for international co-operation. The torch it has kindled is not extinguished, but it is handed on to a new organization to maintain and foster. We say goodbye to the IMO with affection but no regret, and we go forward with confidence in the WMO to apply meteorology more fully to the service of mankind. Gentlemen: the IMO is dying, long live the WMO".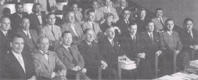 Figure 23 Meeting of WMO Regional Association for the Southwest Pacific (RA V), January 1954. Front row, left to right, unidentified, Cartwright, Rivet, Barnett, W. A. Dwyer, Timcke, L. J. Dwyer, Gibbs, Garriock.
Timcke attended the first Congress of WMO. IMO agreement that it should be replaced by WMO as a specialised agency of the United Nations was an inevitable decision. IMO had operated on the goodwill of governments who endorsed the directors of their meteorological agencies as autonomous members of the IMO and this arrangement had worked well. But in a changing world it was wise to place governments in the position where they would assume responsibility for upholding and abiding by the Convention of the WMO.
Dr Francis W. Reichelderfer was the first President of WMO and Dr G. Swoboda, former Secretary of IMO was elected as Secretary General. As mentioned in Chapter 1 D. A. Davies (1990) has provided information on the history of the Organization. Dr M. A. F. Barnett of New Zealand was elected the first President of WMO RA V and its first meeting was held in Melbourne in 1954.
The WMO Technical Commission for Aeronautical Meteorology (CAeM) with A. H. Nagle (US) as President operated in close collaboration with ICAO and Walter Dwyer was appropriately chosen as the Australian member of CAeM. A South Pacific Air Transport Council (SPATC) was established and Walter Dwyer participated as the Australian meteorological representative.
---
People in Bright Sparcs - Dwyer, Walter Anthony; Timcke, Edward Waldemar; Warren, Herbert Norman


Gibbs, W. J. 1999 'A Very Special Family: Memories of the Bureau of Meteorology 1946 to 1962', Metarch Papers, No. 13 May 1999, Bureau of Meteorology

© Online Edition Australian Science and Technology Heritage Centre and Bureau of Meteorology 2001
Published by Australian Science and Technology Heritage Centre, using the Web Academic Resource Publisher
http://www.austehc.unimelb.edu.au/fam/0983.html