Table of Contents
---
Memories of the Bureau, 1946 to 1962

Foreword

Terminology

Prologue

Preface

Chapter 1: The Warren Years, 1946 to 1950

Chapter 2: International Meteorology

Chapter 3: The Timcke Years, 1950 to 1955
A Period of Consolidation
Aviation Services
Services for the General Public
Rockets and Atomic Weapons
Instruments and Observations
Climate and Statistics
International Activities
Training
Publications
Research
Central Analysis and Development
CSIRO
The Universities
The Meteorology Act
Achievements of the Timcke Years

Chapter 4: A Year at the Massachusetts Institute of Technology

Chapter 5: The Dwyer Years, 1955 to 1962

Chapter 6: A Springboard for the Future

Appendix 1: References

Appendix 2: Reports, Papers, Manuscripts

Appendix 3: Milestones

Appendix 4: Acknowledgements

Appendix 5: Summary by H. N. Warren of the Operation of the Meteorological Section of Allied Air Headquarters, Brisbane, 1942–45

Endnotes

---
Index
Search
Help
Contact us

The Meteorology Act (continued)
As pointed out in an earlier paper (Gibbs 1982) while the discussion of the Bill for the 1906 Act occupied 26 pages of Hansard, that of the Bill for the 1955 Act occupied only about five and a half pages.

The 1955 Act left it in no doubt that the Bureau should educate and encourage the population to use its products, should actively promote the science of meteorology by research and other means and should furnish advice on how its products should be used. Most Ministers and Permanent Heads of Departments in which the Bureau was lodged respected the letter and the spirit of the 1955 Act, the Bill for which was introduced in the House of Representatives by Wilfred Kent-Hughes.

As discussed in Chapter 6, as Director of Meteorology I had one Permanent Head who considered his responsibility outweighed the force of the Act. The Meteorology Act should be the Director's security blanket against undue interference.
Achievements of the Timcke Years
Although E. W. Timcke was less adventurous and not as visionary as Warren, his period as custodian of the Bureau must be regarded as fruitful. The observational network was expanded significantly with the addition of radar wind-finding stations. Meteorological stations at Heard and Macquarie Islands were maintained and a meteorological station was established at the new base of Mawson on the Antarctic continent. There was a significant boost in the training of meteorologists (including cadets), observers and technicians and a significant increase in the scientific awareness of the Bureau's professionals.

During a period of Government restraint on staff numbers and expenditure Edward Waldemar Timcke maintained a dignified and dedicated position as Director of Meteorology. His management of the Bureau during a period when there was the pressure of secrecy in supplying meteorological service for the conduct of tests of nuclear weapons in Australia by the AWRE and management stringency was a significant consolidation of the position he had inherited from H. N. Warren.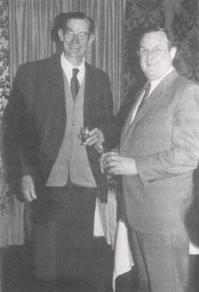 Figure 24 E. W. Timcke and Ralph Holmes at a Bureau social function in the 1970s.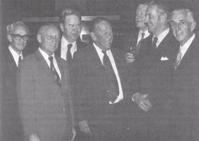 Figure 25 One of the early meetings of the Frosterley Club in the 1970s. Left to right Bill Brann, Leo Costello, John Lillywhite, Charlie James, Keith Hannay, Bill Gibbs, Joe Hobba—all Bureau members in the Warren, Timcke, Dwyer years.
---
People in Bright Sparcs - Timcke, Edward Waldemar; Warren, Herbert Norman


Gibbs, W. J. 1999 'A Very Special Family: Memories of the Bureau of Meteorology 1946 to 1962', Metarch Papers, No. 13 May 1999, Bureau of Meteorology

© Online Edition Australian Science and Technology Heritage Centre and Bureau of Meteorology 2001
Published by Australian Science and Technology Heritage Centre, using the Web Academic Resource Publisher
http://www.austehc.unimelb.edu.au/fam/0996.html