Vic Bahr's Last Bow
No. 243 December 1978, Item 3045

While still trying to adjust to the absence of Dr Bill Gibbs from the Director's chair after sixteen years, the Bureau received another blow when RD NSW Vic Bahr decided to call it a day and retired on 13 September after 44 Years in Government service. Vic was acting ADS at the time.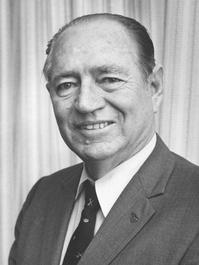 Vic Bahr
Vic joined the then Department of Interior in 1934 and transferred to the Bureau of Meteorology in 1937 as a Junior Meteorological Assistant. He completed a science degree before commencing war service and was awarded a Master of Science degree in 1947. In 1948 he was promoted to head of the Bureau's Tasmanian office. From 1953 to 1957 he was Chief of the Administrative Division of the World Meteorological Organization in Geneva and played a key role in organising the second WMO Congress in 1955.
From 1958 to 1966 Vic saw over-seas service with the Department of Defence in Britain, the United States and SE Asia, including four years in Hong Kong.
In 1966 he rejoined the Bureau as Regional Director for the Australian Capital Territory before becoming Regional Director for New South Wales in 1969. Since 1977 Vic has been working in senior positions in the Bureau's Melbourne Head Office, as head of the Services and Management Branches. He also acted as Director of Meteorology.
Vic plans to spend his retirement sailing and fishing, painting, and writing a book on early Australian history. He has sailed frequently as a crew-member in the Sydney-Hobart Yacht race, and is an active royal tennis player, skier and yachtsman.
Vic told the audience at his HO farewell of how he could remember the days that the Bureau supplied route forecasts covering thousands of kilometres from a handful of observations, and compared it to the present day with the Bureau employing a multitude of electronic and computerised aids. He expressed the hope that the sense of unity which prevailed in the Bureau's early days would not be lost as the now much larger Bureau continues to require greater and greater specialisation.
It is a measure of the breadth of his popularity that Vic was also given 'send offs' by Central Office of Department of Science and Qantas. Few would disagree that his will be a hard act to follow. Vic proved this when he provided the audience at his many farewells with his swansong—literally.
It is printed below in full.
I've Grown Accustomed To This Place
(with apologies to G. B. Shaw, Alan J. Lerner and Frederick Loewe)
Damn!! Damn!! Damn!! Damn!!
I've grown accustomed to this place!
I'd almost rather stay together
Than retire to the matrimonial tether
In salubrious Sydney weather
Its HIGHS, Its LOWS
Are second nature to me now
Like milk is to a cow
I was serenely placid and at peace before
Surely I can settle in on the Harbour shore
And yet
I've grown accustomed to Melbourne joys
Accustomed to Head Office girls and boys
Accustomed to all the ploys
Pauline, Janet and Terry
Each one delightful and merry
What a pleasant secretarial trio
Who have cared so well for me-o
Yes I'll regret it! I'll regret it!
I'll doubt if I'll ever feel quite free-o
I can see them now
John, Arthur and Bob, Henry, Keith and Ross
All behaving like the perfect boss
In that Board Room on the 14th floor
I can see it now
Not a spare man or cent to play with
As there used to be in the days of yore
They'll try to claim badly treated
And make representations for a better deal
Claiming the Government will be unseated
Unless Cabinet gets some meteorological zeal
In a year or so
When I am out walking
I'll meet some of you on the go
And you'll all start talking
And say why the hell did you go away
We're wanting you over Saudi Arabia way
Do I surprise you?
How simply frightful
How frustrating
How delightful
How poignant it will be on that inevitable day when
They hammer on my door and pleadingly implore
Overworked and understaffed and wonder why I haven't laughed
Will I let them in or treat them with reserve?
Give them a signature or the treatment they deserve?
Will I agree to talk or tell them "go take a walk"?
I'm a diplomatic man
The sort that never would
Make a decision and staunchly never budge
Just a diplomatic man
But I will never try and be kind
By agreeing to change my mind
Let them brainwash and intone
Let them throw a salary bone
I will damn them all and never heed their call
But I'm so used to work our way
Good forecasting every day
Our highs, our lows
Our storms, stream flows
Are second nature to me now
Like breathing out and breathing in
Remembering where to frown and when to grin
And yet
I've grown accustomed to the rat race
Accustomed to each face
Accustomed to this place
---
People in Bright Sparcs - Bahr, Victor John



© Online Edition Australian Science and Technology Heritage Centre and Bureau of Meteorology 2001
Published by Australian Science and Technology Heritage Centre, using the Web Academic Resource Publisher
http://www.austehc.unimelb.edu.au/fam/1405.html