Queensland Regional Director Calls it a Day [Rex Falls]
No. 325 August 2000

QUEENSLAND Regional Director Rex Falls retired on 7 July after more than 40 years with the Bureau.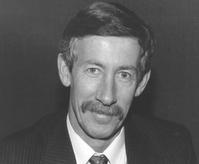 Queensland Regional Director Rex Falls: retired on 7 July after more than 40 years with the Bureau.
Previously the RD in the Northern Territory, Rex was appointed to the top job in Queensland in 1985.
Rex started his cadetship in Sydney in 1959, completed the meteorologist course in 1962, and was posted to Adelaide and then Darwin, specialising in tropical meteorology. He travelled to the Butterworth RAAF Base in Malaysia in 1967 and returned to Darwin in 1971.
At the end of 1973 Rex left Darwin to move to Brisbane as a Meteorologist Class 4. He interchanged between Darwin and Brisbane a few times before becoming NT RD in 1977. He was appointed as Queensland RD in 1985.
In June this year Rex made a final inspection tour of northern and western Queensland, visiting Cairns, Townsville, Mackay, Rockhampton, Longreach and Charleville. There were a few farewell celebrations thrown in along the way.
Cairns staff organised a dinner in his honour, while barbecues were the order of the day in Townsville and Rockhampton.
In Rockhampton, Rex presented Officer in Charge Ian McCarthy with an Outstanding Service Award for service to mariners. In Mackay, OIC John McIlwham received the same award from Rex during a farewell dinner at a Thai restaurant.
In Longreach, staff and wives joined Rex for dinner at the Longreach Club, and a Chinese restaurant provided the venue for a dinner in Charlevillie, where Vince Shuey was presented with his 30-year service award.
In Brisbane, celebrations were held at the Hilton Hotel on 5 July when 40 people wished Rex and Lyn all the best.
Long-time friend and fishing associate Dr Geoff Love, Deputy Director (Services), recounted some of Rex's career highlights, as well as a few of his more memorable deeds away from the Bureau.
Geoff praised Rex's communication skills, including his ability to be comfortable in any group, be it research scientists from overseas or pastoralists from the Territory.
He also noted Rex's achievements in Darwin, including the formation of the NT Tropical Cyclone Consultative Committee, the development of the region's climate monitoring bulletin the Darwin Tropical Diagnostic Statement, the Gove radar (which he successfully argued with Head Office for), and his strong support for the development of the automated tropical analysis scheme.
Geoff also commented on Rex's prowess as a sailor, Hash House Harriers runner and player of those difficult ball sports squash, tennis and, of course, golf.
Rex's future fishing exploits were assisted with the presentation of a tackle box and all-weather fishing jacket on behalf of Regional and Head Office staff.
Before Rex departed the Brisbane office on 7 July, he invited all staff to join him for a drink.
- PETER FLETCHER, Qld correspondent
---
People in Bright Sparcs - Falls, Rex



© Online Edition Australian Science and Technology Heritage Centre and Bureau of Meteorology 2001
Published by Australian Science and Technology Heritage Centre, using the Web Academic Resource Publisher
http://www.austehc.unimelb.edu.au/fam/1446.html