'The Ice Man Goeth . . .' DDS Neil Streten Calls it a Day
No. 315 April 1997
There were tears, cheers and a few beers to mark the retirement of Deputy Director Services, Dr Neil Streten, on 31 January. A few tears were shed by Executive Branch staff losing a colleague and close friend, the beers were consumed as part of the overall festivities and the cheers came from Neil himself, who remarked that he had been to quite a few retirement functions but that this was 'the best one yet.'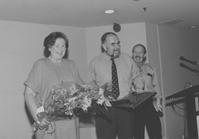 Margaret and Neil Streten
At the HO Australia Day gathering on 14 January, the Director, Dr John Zillman, paid tribute to Neil's achievements over a career 'longer than some are years old'. In his 46 years with the Bureau, Neil made his mark in many areas, notably in the field of Antarctic meteorology where he did 'some remarkable work' to bring Antarctic issues onto the international scene, Dr Zillman said.
Neil joined as a Cadet Meteorologist in 1951 in Queensland. He completed his BSc at the University of Queensland in 1954 and came to Melbourne in 1955 for meteorological training under Professor Fritz Loewe.
For the decade from 1956, Neil worked on operational duties in Hobart, Mawson and the Central Analysis Section.
In 1959 he completed a Diploma of Public Administration at the University of Tasmania. At the time, it was rare for people in professional organisations to take a formal course in management.
He married Margaret in 1962. Their son Phillip was born in 1963 and daughter, Clare, arrived in 1972.
During 1967–68, Neil was Visiting Professor at the Geophysical Institute, University of Alaska. In 1969 he became one of the first people, together with DDR Doug Gauntlett, to take up duty in the Commonwealth Meteorology Research Centre (CMRC).
Neil returned to Alaska in 1973–74 and was appointed President of the International Commission on Polar Meteorology in 1975. In 1983, he was awarded a DSc, Melbourne University; was named Chairman of the WMO-EC Working Group on Antarctic Meteorology, and was appointed inaugural Assistant Director (Executive). In 1988, following the retirement of Bob Crowder, Neil was named Deputy Director (Services ).
Neil was 'absolutely terrific at putting into place very short, simple, down-to-earth and practical ways of doing things', Dr Zillman recalled. There was a 'marvellous tension' between the Director's desire for detail and Neil's aspirations to brevity. He commended Neil's ability to get important things done quickly and his capacity to handle a crisis; there were numerous occasions when he saved the Bureau from a mishap, maintaining a 'wonderful calm when everything is falling apart'.
---
Organisations in Australian Science at Work - Commonwealth Meteorology Research Centre

People in Bright Sparcs - Streten, Neil Anthony



© Online Edition Australian Science and Technology Heritage Centre and Bureau of Meteorology 2001
Published by Australian Science and Technology Heritage Centre, using the Web Academic Resource Publisher
http://www.austehc.unimelb.edu.au/fam/1437.html