Table of Contents
---
Chapter 8

I Part 1: Communications
i Before the Telegraph
ii Electrical Communication Before Federation
iii Federation to the End of the Second World War
iv Post-war and on to 1975
v 1975 ONWARDS

II Epilogue

III Part 2: Early Australian Computers And Computing

IV Acknowledgements

References

---
Index
Search
Help
Contact us

Federation to the End of the Second World War
At Federation, responsibility for telecommunications was transferred from the States to the Commonwealth, an arrangement which facilitated the development of a national system with common standards. Shortly afterwards the report by a Committee chaired by Sir Charles Todd, already mentioned, gave a detailed description of the Australian scene, against current world technology, and recommended a programme of work to put the system in good order at a total cost estimated at £462,485. In 1901-2, however, the Government reduced charges for telephone and telegraph services, with the result that funds were insufficient to implement the upgrading plan, while delays in provision of service to new applicants became excessive. It was not until 1907 that funding began to improve and in the following year a Royal Commission was appointed to examine the whole problem.[10]

The Todd Report showed that Sydney had a network of 7502 subscribers connected to 24 exchanges, the largest of which was Central with 3602 and the next largest Edgecliff with 422, while three others exceeded 300 lines. Central exchange had an almost new magneto multiple installation with single cord 'B' positions for incoming junctions, but because an extension was necessary and maintenance problems were being experienced, the Todd Committee recommended replacement, while all other exchanges were non-multiple magneto. The network was in fair condition and it was expected that suburban exchanges would be replaced by magneto multiple as they grew beyond about 400 lines, but because capital was critically short only one exchange, Edgecliff, was converted to magneto multiple before 1908 and funds were found to install the first stage of CB exchange at Central, with the magneto multiple exchange continuing in service for a number of years. The other exchanges were simply extended as non-multiple suites of up to 10 positions, with the result that most calls required two operators and many, three or four. Service was unsatisfactory.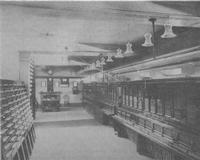 4 Central exchange, Sydney. Series Multiple c1890
In 1907 an expedient was devised which involved adding 'B' positions to the non-multiple exchanges to handle incoming junctions and circuit changes were made to the existing 'A' positions to provide a busy test. At an exchange where these boards were fitted, the 'A' operators no longer had to switch incoming junction calls, while the improved service on incoming calls reduced the operating time at the distant end. These combined effects resulted in a quite dramatic improvement in the performance of the Sydney network.
Following these temporary measures a programme of exchange installation rectified the situation and by the end of 1912, there were seven full multiple exchanges, three locally designed exchanges with multiple 'B' positions and the remaining exchanges were all small enough to be satisfactory as non-multiple exchanges. The provision of 'B' positions created an opportunity for experimenting with junction signalling and operating using order wire working and lamp signalling, which were introduced fairly rapidly and the level of expertise in the engineering and operating sections was raised.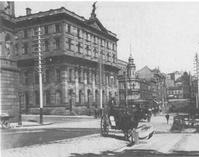 5 Poles and wire in Bridge Street, Sydney, 1905
---
People in Bright Sparcs - Todd, Sir Charles



© 1988 Print Edition pages 541 - 542, Online Edition 2000
Published by Australian Science and Technology Heritage Centre, using the Web Academic Resource Publisher
http://www.austehc.unimelb.edu.au/tia/533.html