Table of Contents
---
Chapter 8

I Part 1: Communications
i Before the Telegraph
ii Electrical Communication Before Federation
iii Federation to the End of the Second World War
iv Post-war and on to 1975
v 1975 ONWARDS

II Epilogue

III Part 2: Early Australian Computers And Computing

IV Acknowledgements

References

---
Index
Search
Help
Contact us

1975 ONWARDS
Developments during the period in areas such as electronics, digital techniques, satellites and optical fibres were destined to impact in a major way on communications technology and thus on the services and facilities available. In an industry with a history of rapid technological change, the period was one of exceptional activity, with software, too, becoming of increasing significance, while the use of computers as an integral part of communications equipment on the one hand and the use of communications to link computers on the other were particular features of the period leading towards networks integrating computers and communications into overall systems. Moreover rapid developments in electronics and software facilitated the production of subscribers' equipment with quite sophisticated capabilities, as well as packet switching systems, developments which impacted on the architecture of communications networks which had previously been dominated by central exchange capabilities. The same technologies impacted on broadcasting, both radio and television, extending the range and variety of services available to many Australians.

Non-technical factors influencing the development of communications during the period were to be found, for instance, in the separation in 1975 of the PMG Department into two statutory authorities, Australia Post and the Australian Telecommunications Commission (TELECOM). Then in 1979, the Government decided that Australia should have its own system of domestic communication satellites, with the objective, amongst others, of ensuring nation-wide availability of radio and TV services. Aussat Pty. Ltd., owned 75 per cent directly by the Government and 25 per cent by Telecom, was established in due course as the operating authority.

The period also saw complex interaction between the services which the new technology made practical and customer needs, including rapidly changing business requirements. At the same time, the first widespread expression of employee unease at the potential of the new technology to affect employment emerged, while the community became more aware of such social considerations as privacy and security of information. Quite a different instance of the effect of the new technologies was the way in which video equipment suitable for domestic use, an element of entertainment technology, began to have an influence on the extent of TV audiences. In short, communications influenced in an increasing way the whole fabric of life -personal, social, business, government and community alike.

As developments in the period are generally too recent to be seen in proper perspective and as many are still incomplete, the approach taken is to describe selected trends as they appear looking back from 1986, but recognising that when seen from a later perspective, somewhat different emphasis might be appropriate. As the period has progressed, one key development has been a rapid move towards digital switching and transmission, with the creation of a number of specialised networks such as a digital data network (DDN) and the development of an integrated digital network overlaying the analogue public switched telephone network and moving beyond this to the concept of an integrated services digital network (ISDN).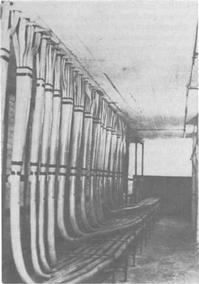 26 Main Telephone Exchange underground entry
---
Organisations in Australian Science at Work - AUSSAT Pty Ltd; Australia Post: set up; Telecom Australia (Australian Telecommunications Commission)



© 1988 Print Edition pages 589 - 590, Online Edition 2000
Published by Australian Science and Technology Heritage Centre, using the Web Academic Resource Publisher
http://www.austehc.unimelb.edu.au/tia/568.html