Table of Contents
---
Chapter 8

I Part 1: Communications
i Before the Telegraph
ii Electrical Communication Before Federation
iii Federation to the End of the Second World War
iv Post-war and on to 1975
v 1975 ONWARDS

II Epilogue

III Part 2: Early Australian Computers And Computing

IV Acknowledgements

References

---
Index
Search
Help
Contact us

1975 ONWARDS (continued)
In another important development in 1977, Telecom adopted the 2 M/bit 30 channel Pulse Code Modulation (PCM) system, rather than the North American 24 channel version, as its standard. PCM was then progressively introduced into the capital city junction networks making use of network characterisation work carried out earlier by the Research Laboratories and with equipment manufactured initially by NEC Australia. Digital microwave systems on main routes followed as well as the introduction of digital equipment on existing coaxial cables, thus rapidly establishing a basic digital transmission system within the existing analogue one. By 1986 Australia had the world's largest digital microwave trunk system, stretching over five thousand kilometres from Perth to Brisbane, utilising high performance antennae and engineered to overcome fading.

Interest in a completely new transmission medium had begun in Australia in 1971 when scientists at CSIRO worked on a hollow glass fibre with a liquid core and the APO Research Laboratories conducted experiments on samples of such a cable. In the event, because of inherent structural/optical disadvantages, development did not go in this direction and in 1975 AWA began to develop a facility to make a solid core cable for Telecom, with Research and Development contracts through Telecom, Defence and CSIRO, under the guidance of Dr. D. Nicol of AWA. Early solid core cables involved multi-mode (MMOF) transmission and the next development in optical fibre technology was the production of a core so narrow that only one mode of light could be transmitted (SMOF).

In 1981/82 Telecom installed an experimental MMOF cable linking the Research Laboratories with the Springvale and Clayton exchanges in order to access the potential of this new technology. This was followed a year later by the installation of three separate field trial cables (in Victoria and Queensland totalling some 75 route miles) using MMOF technology optimised for operation at 850 nm with an optical attenuation of some 3 db/km and a band width of 600 mHz. Next came an eight fibre SMOF cable from Melton to Ballarat, 76 km, to be operated at 1300 nm with an attenuation of about 0.5 db/km.

As interest in the exploitation of optical fibres grew, the manufacturing industry moved to take advantage of the new market, with Optical Waveguides Australia Pty. Ltd., jointly owned by Metal Manufacturers, AWA and Corning Glass Works of the United States and Optik, jointly owned by Olex and Sumitomo, both establishing factories for production of fibre. The traditional cable manufacturers then developed techniques for producing optical fibre cable.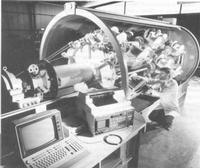 27 Manufacture of Optical Fibre Cable -Olex Cables
In another development, OTC announced preliminary plans for a series of optical fibre submarine cables in the Pacific area in the nineteen nineties, beginning with an Australian-New Zealand cable to be completed in 1991 and has entered preliminary negotiations with the objective of having a submarine cable factory established in Australia.
---
Organisations in Australian Science at Work - Amalagamated Wireless Australia (A.W.A.); Australian Post Office (A.P.O.); L. M. Ericsson; Metal Manufacturers Ltd; N.E.C. Australia; Olex; Optical Waveguides Australia Pty; Optik; Overseas Telecommunications Commission (O.T.C.); Standard Telephones and Cables (S.T.C.); Telecom Australia (Australian Telecommunications Commission)

People in Bright Sparcs - Nicol, D.



© 1988 Print Edition pages 592 - 593, Online Edition 2000
Published by Australian Science and Technology Heritage Centre, using the Web Academic Resource Publisher
http://www.austehc.unimelb.edu.au/tia/570.html