Table of Contents
---
Chapter 9

I Introduction

II The Australian Chemical Industry

III Pharmaceuticals
i Prosperous pioneers
ii War-time pharmaceutical chemistry
iii Commonwealth Serum Laboratories
iv Post-war pharmaceutical manufacture
v Public sector policies

IV Chemists In Other Industries

V The Dawn Of Modern Chemical Industry - High Pressure Synthesis

VI The Growth Of Synthetic Chemicals - Concentration, Rationalisation And International Links

VII Australian Industrial Chemical Research Laboratories

VIII The Plastics Industry

IX The Paint Industry

X Acknowledgements

References

---
Index
Search
Help
Contact us

Prosperous pioneers (continued)
After the First World War chemotherapy changed the nature of the industry -it became wholly research dominated. Australian wholesalers and the few relatively small manufacturers sought protection from overseas take-overs in amalgamation. Between 1929 and 1931 seven companies, similar to, but some smaller than Felton Grimwade and Elliott's, affiliated to form Drug Houses of Australia (Felton Grimwade, Duerdin and Sainsbury, and Rocke Thompsitt of Melbourne; Elliott's of Sydney; Bickford's of Adelaide; Taylor-Elliott's of Brisbane and Grimwade and Bickford's of Perth). The consolidated enterprise was substantial, with an issued capital of £2.5 m close, at the time, to that of ICI Australia, Australia's largest chemical manufacturer, founded just before then. While ICI Australia was firmly launched on its path to local manufacture the pharmaceutical business, however, remained predominantly a trade of importation, formulation and distribution.

One pharmaceutical enterprise which put greater emphasis on the manufacturing side of its business and whose successors strengthened this emphasis was Faulding's (Fig. 12). Francis H. Faulding, a pharmacist, started his shop in Adelaide in 1841 and formed a partnership with an English physician, L. Scammel in 1861.[56] From its beginnings the firm showed a flare for innovation. After Simpson's discovery of the anaesthetic properties of chloroform in 1847, Francis Faulding was the first to import chloroform; in 1858 he distributed cocaine preparations; in 1864 he produced the first olive oil from South Australian olives and, after J. Lister's reports in Lancet on the reduction of mortality after surgery with the use of phenol, Faulding began production of antiseptics ('Solyptol') in 1867.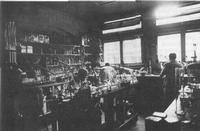 12 F. H. Faulding & Co. Limited laboratory, late 19th century.
The Second World War in Europe disrupted the supply of cod liver oil, an important source of Vitamin A. Faulding chemists found an alternative source in white schnapper shark, which sustained supplies in Australia as well as generated exports to the UK. When supplies of I.G. Farben's newly discovered sulpha drugs ran out, Faulding became involved in the national program organised by the Medical Equipment Control Committee (MECC) and, jointly with universities, synthesised sulphanilamide. Following the transfer of American knowhow (see p. 663) Faulding's was also the first private enterprise to produce yet another life saving drug of military importance, penicillin. After the war basic synthesis of antibiotics became difficult to sustain by private enterprise because of the gigantic scale advantages of competing US producers, and competition in the synthesis of new drugs demanded huge investment in R & D; Fauldings maintained their business by a combination of marketing, wholesaling and producing consumer and medical products. In the 1970s, however, Fauldings set a remarkable precedent in research strategy and achievement in the Australian pharmaceutical business. They decided to concentrate their research on drugs which had proven efficacy, but which also suffered from certain shortcomings restricting their clinical usefulness, and to seek advances overcoming these shortcomings. This was an imaginative new strategy, a way of grafting Australian knowhow on to major products, in keeping with local resources and yet offering opportunities for sophisticated skill. At the same time it promised to open international markets, since the major producers of the basic drugs could hardly ignore significant advances.
---
Organisations in Australian Science at Work - A.C.I.; Australia. Department of Defence. Medical Equipment Control Committee (M.E.C.C.); Australian Consolidated Industries (A.C.I.); Bickfords, Adelaide; Cuming Smith and Co.; Drug Houses of Australia (D.H.A.); Duerdin and Sainsbury; Elliott Bros.; F. H. Faulding and Co. Ltd; Grimwade and Bickford, Perth; I.C.I. Australia Ltd; Rocke Thompsitt, Melbourne; Taylor-Elliott, Brisbane

People in Bright Sparcs - Bosisto, J.; Cheetham, R.; Faulding, Francis H.; Felton, Alfred; Grimwade, F. S.; Kempthorne, T. W.; Poynter, Prof. John S.; Prosser, E.; Scammel, L.; Wellcome, Sir Henry



© 1988 Print Edition pages 653 - 654, Online Edition 2000
Published by Australian Science and Technology Heritage Centre, using the Web Academic Resource Publisher
http://www.austehc.unimelb.edu.au/tia/619.html