Table of Contents
---
Chapter 9

I Introduction

II The Australian Chemical Industry

III Pharmaceuticals
i Prosperous pioneers
ii War-time pharmaceutical chemistry
iii Commonwealth Serum Laboratories
iv Post-war pharmaceutical manufacture
v Public sector policies

IV Chemists In Other Industries

V The Dawn Of Modern Chemical Industry - High Pressure Synthesis

VI The Growth Of Synthetic Chemicals - Concentration, Rationalisation And International Links

VII Australian Industrial Chemical Research Laboratories

VIII The Plastics Industry

IX The Paint Industry

X Acknowledgements

References

---
Index
Search
Help
Contact us

Prosperous pioneers (continued)
Bosisto failed to create a major pharmaceutical enterprise based on the uniqueness of local flora (although production of opium concentrate and eucalyptus oil has survived); indeed natural products could not have held back the next century's tide of synthetic drugs. Sixty years later another pioneer of pharmaceutical manufacture, George Nicholas, took up this new challenge.

George Nicholas started in 1915 from a humble pharmacy.[58] In a primitive makeshift laboratory he reproduced the synthesis of acetylsalicylic acid, 'Aspirin', a well established product sold world-wide by Bayer of Germany. Nicholas did not aim at scientific achievement; his was clearly an endeavour to create a business based on import replacement and encouraged by the opportunity of wartime disruption of supplies. Nicholas was encouraged by Billy Hughes, then Attorney General, who had suspended -not confiscated -Bayer's proprietary rights, in particular the trademark 'Aspirin' and who had promised to grant these rights to anyone who could meet the required standards of purity. To experienced chemists the reproduction of the German synthesis would not have posed formidable obstacles, but Nicholas was a pharmacist, had no equipment and no resources. Yet, eventually with the help of a consultant (H. W. Shmith) he produced 'Australian Aspirin purer than German' (Fig. 13) as Billy Hughes asserted proudly[59] when he issued the licence to use the Bayer trademark.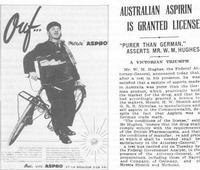 13 Left: Nicholas advertisement in France. Right: The Melbourne HERALD reports Australian 'Pure Aspirin', September 17, 1915.
From the outset George Nicholas showed determination to exploit the void created by the exclusion of Bayer from international markets during and after the First World War. Early on in his career he recognised the pillars on which successful pharmaceutical manufacture rests -an outstanding product, owned exclusively or at least secured by a good trademark; international marketing of the product; effective promotion and, most difficult of all, generation of a succession of good products. While these characteristics may not have been so clear as they are with hindsight now, his actions testify to his vision. He saw the value of the trademark 'Aspirin' -and with the Australianised version of 'Aspro' got the best of both worlds -a familiar sound and an independent mark. He used -tolerated -his, market manager's flamboyant, even crude advertising and pushed into international markets at a very early stage -1925/6 into the UK, initially with supplies from Australia and from 1927 with manufacture in the UK; from there into South Africa (1928), Belgium (1929), Egypt and France (1935, with manufacture there from 1937) and from Australia into New Zealand, Indonesia and Malaya, even Congo, Morocco, Iraq etc. However, 'Aspro' never penetrated the most important market of all, the USA and did not do very well in Bayer's home territory, Germany.
---
People in Bright Sparcs - Bosisto, J.; Nicholas, George; Shmith, Harry W.



© 1988 Print Edition page 656, Online Edition 2000
Published by Australian Science and Technology Heritage Centre, using the Web Academic Resource Publisher
http://www.austehc.unimelb.edu.au/tia/621.html